'Jurassic Trump' gnaws on migrants, called 'prejudicial and absurd' by Mexican officials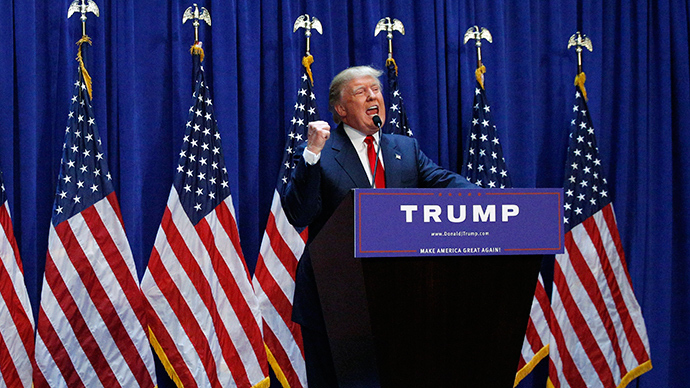 Mexican officials lobbed insults back at billionaire presidential candidate Donald Trump, after he said during his campaign announcement that the America's southern neighbor wasn't sending the US their best, but rather drug dealers and rapists.
Mexico's interior minister said Trump was seeking to "generate controversy" when he referred to Mexicans as rapists and drug dealers.

"The remarks by Donald Trump seem prejudicial and absurd," interior minister Miguel Angel Osorio Chong told reporters at an anti-discrimination event in Mexico City.

"He surely doesn't know the contributions made by migrants from practically every nation in the world, who have supported the development of the United States."

Mexican Foreign Secretary Jose Antonio Meade also called Trump ignorant and prejudiced.

Trump has "a profound ignorance of the reality in Mexico and the migrant contribution to [US] society," Meade said. Trump's comments "reflect prejudices … a politician that does not know reality does not have good prospects."

Speaking from Trump Tower in New York on Wednesday against a backdrop of rocking guitar music, the property tycoon announced his candidacy, insulted his opponents, said America didn't have victories anymore, and launched a tirade against Mexico.

"They are not our friends, believe me…When Mexico sends its people, they're not sending their best," Trump said. "They're sending people that have lots of problems. And they're bringing those problems to us. They're bringing drugs. They're bringing crime. They're rapists."
Donald Trump Presidential Announcement Full Speech, insults about Mexico begins 07:26

He also promised to build a huge wall spanning the 2,000-mile US-Mexico border to keep the migrants out.

"I will build a great, great wall on our southern border," Trump said in his speech, "and I will have Mexico pay for that wall. Mark my words."

Afterwards, the largest Latino organization in the United States said Trump "is an exceedingly silly man, who has no idea what he's talking about."

"This is a man who has a pathological need for attention," Lisa Navarrete, a spokeswoman for the National Council of La Raza, told the Guardian. "I look at him as a two-year-old who will say a naughty word to get their parents' attention."
Those on social media couldn't resist another chance to parody the presidential candidate, whose flop of hair became a Twitter sensation when it was first hinted that he would announce his candidacy.
READ MORE: Trump trumped by Twitter trolls
The website El Deforma, the Mexican answer to The Onion, according to the Global Post, ran a cartoon titled "Jurassic Trump," showing the billionaire with a whale's body, trying to eat a little Mexican fish.

More than 11 million Mexican citizens live in the US, along with millions of other Americans with Mexican roots. Latinos are the US' largest ethnic group, according to the US Census Bureau, with 54 million who identify as Latino.

Mexico is also the US' second-largest trading partner after Canada. In 2014, the US exported $240 billion worth of goods to Mexico and imported $294 billion from it, according to government data.
You can share this story on social media: