Popular teacher 'forced' to resign after nudging & slapping student to 'wake him up' (VIDEO)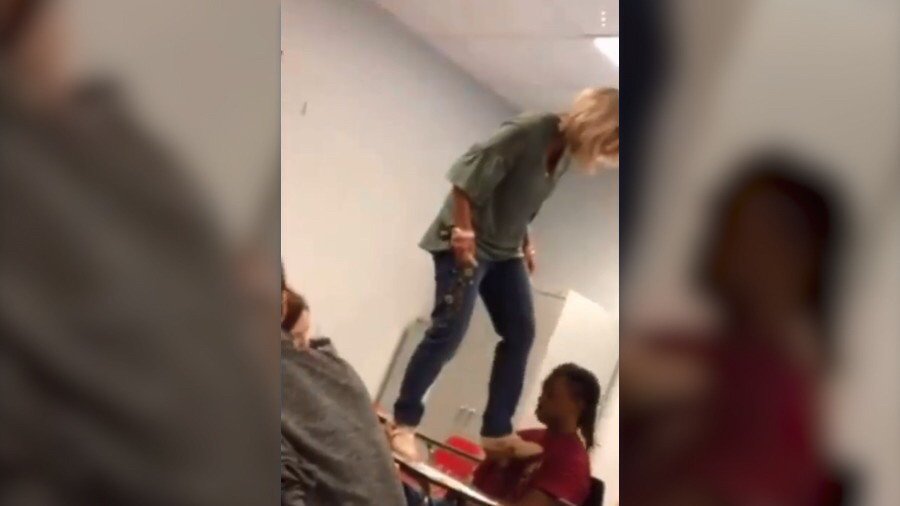 A South Carolina teacher was "forced" to retire after a video of her trying to wake up a student by pulling his hair while standing on his desk emerged online. Some students and parents, however, have rallied behind the teacher.
Footage shows the veteran Palmetto High School math teacher Lisa Houston standing on the desk of a sleeping student. The teacher is pulling the students' hair, nudging him with her foot and slightly slapping him on the cheeks. The student tries to cover up with his jacket to continue sleeping, while the others in the classroom are laughing.
Shortly after the video emerged, the local school district launched an inquiry into the incident. The administration "took seriously what occurred" and Houston resigned, Jane Harrison, assistant superintendent for Anderson District 1, told media in a written statement, while adding that the teacher "has had an exemplary record of teaching performance."
Houston admitted that the "video looks bad" but insisted that it "was not a malicious act." "It was all in fun. I want the public to know that I love the student, and that our rapport with each other was great. I would have never done anything to hurt him," she told local WYFF News 4 in a statement.
READ MORE: Parents outraged after 'revenge sex' and 'baby daddy' issues appear on school assignment
Following the board's decision, its vice chairman Doug Atkins resigned in protest, stating that he did not "want to be associated with this kind of action." While the district said Houston resigned "of her own accord," Atkins claimed that she was actually "forced" to do so or face getting fired. The same account was given by Houston's attorney.
Some present and former students, as well as parents have also rallied behind Houston, citing her long-time teaching record, good relationship with students and desire to make the student actually learn instead of letting him sleep in the classroom.
I had Mrs.Houston and she was by far one of the best teachers I have ever had! She cares so much about her students and always jokes around to keep them interested in the subject she teaches. She meant no harm with this. We love Mrs.Houston! #ifyoufireHoustonwehaveaproblem ❤️

— Lyndsay Agnew (@lyndsay_agnew) 3 мая 2018 г.
Those who opposed the board's decision launched an online campaign under hashtags #iftheyfirehoustonwehaveaproblem and #ifyoufirehoustonwehaveaproblem, and held a small rally near the school. A petition to reinstate Houston at her job has been launched online. As of Saturday afternoon, over 1,500 people had signed it.
READ MORE: Parkland teacher arrested for leaving loaded gun in public toilet
"Lisa Houston was wrongly accused of "hurting" and "mistreating" a student, when all she was trying to do was have fun, wake him up, and make him LEARN," the petition reads.
Moreover, the father of the sleepy student said that neither him nor his son called for any disciplinary action against the teacher. The father told WYFF News 4 that he hoped Houston would get her job back and the whole matter would be over, adding that he learned about the incident only when his son was summoned to the school administration after Houston had already resigned.
Like this story? Share it with a friend!
You can share this story on social media: