Climate change activists plan bizarre Donald Trump iceberg project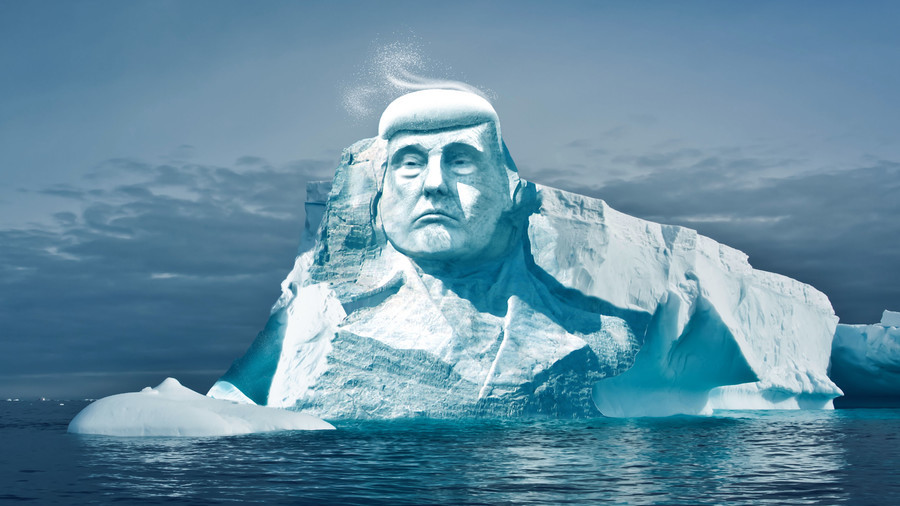 A climate change group is attempting to raise half a million dollars to fund its mission to carve the face of US President Donald Trump into an iceberg.
Finnish environmental activists 'Melting Ice' made the appeal after announcing its plan to sculpt Trump's famous face on to a 115ft piece of Arctic sea ice. The plan, dubbed 'Project Trumpmore' after the famous sculptures of US presidents on Mount Rushmore in South Dakota, is aimed at raising awareness of Trump's anti-environmental policies on the climate.
READ MORE: Dude, where's my tree? Twitter abuzz after oak planted by Trump & Macron 'vanishes'
"We want to build the monument for all of us, so we can see how long the sculpture lasts before melting," the group said in a statement on its website. "Often people only believe something when they see it with their own eyes."
The proposed site of the sculpture is still unknown with 'Melting Ice' calling for other activists to help them scout for a location. If the group achieves its funding goal, a team of world-leading Finnish and Mongolian ice sculptors will be put to work carving the president's coiffed head.
It's not yet clear if the president knows about the plans - or what he'll make of them if the sculpture gets off the ground.
Trump has long denied climate change is man made. In 2012, he infamously stated that the phenomenon is a hoax created by the Chinese to hurt America's manufacturing economy. He later denied making the claim but did take the US out of the Paris climate agreement which was signed by his predecessor Barack Obama in 2015.
Think your friends would be interested? Share this story!