Summit spoiler? US family sues Pyongyang for torturing son to death despite lack of evidence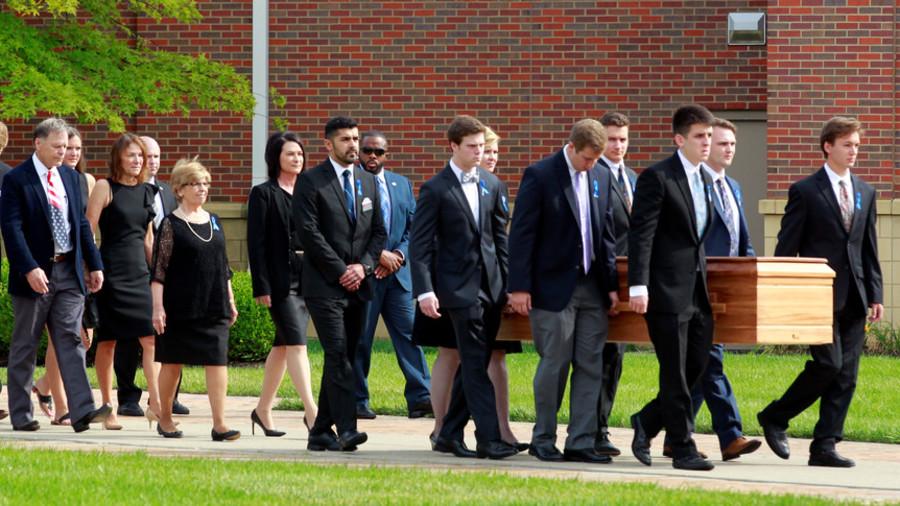 The parents of Otto Warmbier have sued North Korea on the day the key peninsular summit, accusing the nation of torturing their son to death. Earlier medical reports said no signs of torture were found during autopsy.
Otto Warmbier was arrested during a tourist trip to North Korea in December 2015 and detained in prison. His health deteriorated while in custody, and he was released home in a coma, before dying days later. Cindy and Fred Warmbier filed a civil suit at Washington District Court on Thursday, alleging that their son was tortured and killed by the North Korean government.
"North Korea, which is a rogue regime, took Otto hostage for its own wrongful ends, and brutally tortured and murdered him," they said in the suit, which was filed on the same day that North and South Korea held a key diplomatic summit in the demilitarized zone, seeking to defuse tension and pave the way to a peaceful accord.
In the lawsuit, the Warmbiers allege that their son was targeted on the basis of a false accusation in retaliation for the US government's decision to impose additional sanctions on North Korea, which was announced at the time. They say Otto was forced to make a false confession, over which he was sentenced to a lengthy prison term. The suit alleges that the young man was subjected to torture, which resulted in his ultimate death. It asks for unquantified damages as well as punitive fines.
Last year, a coroner disputed the claims by the Warmbier family that their son was tortured by the North Koreans. The post-mortem report contradicted a claim that the family made in a Fox and Friends interview that "someone had taken a pair of pliers and rearranged his bottom teeth."
"There was no evidence of trauma to the teeth," the coroner, Dr Lakshmi Kode Sammarco, told reporters after the interview. "We were surprised at that statement."
She said the team that did the most-mortem looked hard for any evidence of torture, but could not find anything definitive. The team didn't do a full autopsy on Otto's body at the request from the family.
READ MORE: Comatose US student released by North Korea dies in hospital
Warmbier's alleged crime in North Korea was attempting to steal a propaganda banner from a locked room as a trophy. While this may seem as a petty crime for a foreigner, under North Korea's law it is a serious offense – the same way that insulting the king is in Thailand, for example.
He was one of around a dozen US citizens arrested in North Korea for various crimes. The punishment for others varied a lot, from deportation in the case of Sandra Suh, who was accused of using her status as an aid worker to produce anti-Pyongyang propaganda; to lengthy imprisonment for Pastor Kenneth Bae, who spent over two years behind bars for violating a ban on preaching before being released in 2014. The imprisonment of Canadian Pastor Hyeon Soo Lim for similar activities was even longer, lasting over three years, but he too was released despite being sentenced to life. The record shows that Pyongyang is not in the habit of kidnapping and torturing to death foreign tourists and prefers to release them to score points on the diplomatic front.
Think your friends would be interested? Share this story!
You can share this story on social media: