Former US President George H.W. Bush hospitalized
Published time: 23 Apr, 2018 23:39
Edited time: 24 Apr, 2018 07:53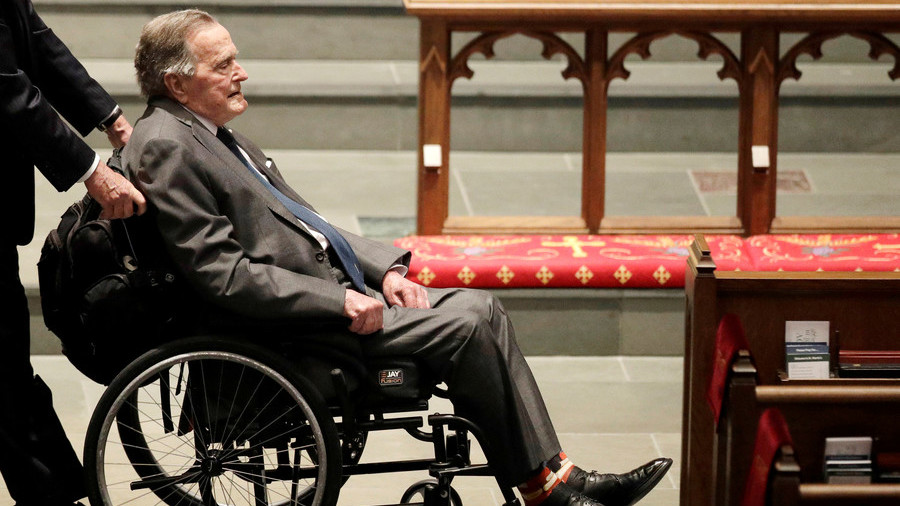 Former US President George H.W. Bush, 93, has been admitted to a Texas hospital with a blood infection, just a day after the funeral of his wife Barbara.
"President Bush was admitted to the Houston Methodist Hospital yesterday morning after contracting an infection that spread to his blood," his spokesman Jim McGrath tweeted early Monday evening. "He is responding to treatments and appears to be recovering."
Bush has been diagnosed with vascular Parkinsonism, a condition where the symptoms of Parkinson's disease are caused by one or more small strokes, rather than the loss of nerve cells. He has been confined to a wheelchair in recent years
READ MORE: Former US First Lady Barbara Bush dead at 92
His wife Barbara died on April 17, at the age of 92, after announcing she would refuse further medical care. They were married for over 70 years. She was buried on Saturday.
After serving two terms as vice-president to Ronald Reagan, Bush was president from 1989 to 1993, having lost the re-election to Bill Clinton. When George W. Bush became president in 2001, it was the second time in US history that a son has followed his father into the White House, after John Quincy Adams in 1825.
Think your friends would be interested? Share this story!