'It was hell on Earth': Hillsborough campaigner recalls tragedy that claimed her brother's life
Hillsborough disaster campaigner Louise Brookes recalls the tragedy that claimed the life of her brother and 95 other football fans on April 15, 1989.
Louise's brother Andrew was one of the victims in the Hillsborough disaster, one of the most tragic watersheds in English football history. And ever since the day of the tragedy, Louise has dedicated her life to investigating it.
Speaking to RT's Stan Collymore, she recalled the details of that tragic day, as well as the long campaign for justice in the decades after the event.
"We didn't have mobile phones in those days, the landline was ringing off the hook, basically. I answered the phone and it was [my friend] Julie. My brother went with two brothers, Steve and John, another two lads Mark 'Spike' and a guy called Pete. It was Julie, John and Steve's sister, and she said 'John's just phoned and Dexy's ok, because [Louise's brother] Andrew's nickname was Dexy after [UK pop group] Dexy's Midnight Runners, but it's pandemonium and Dexy can't get to the phone. So they asked me to pass the message on.
"But 10 minutes later the phone rang again, so I go to answer the phone again, and it was John. He said Dexy is missing. I said, 'Julie just phoned me and said he's with you.' And he said 'No, he is missing, we can't find him. But don't worry, he could be helping someone, he could be in a shock walking down the street. You know, don't worry.'
"So I had to go back into the lounge and tell them… and I saw my dad's face. I'm sorry, I'm going to cry… I saw the look on my dad's face… because my dad knew, you see… and I really believed that, when I went in and told them he was OK, I think my dad thought, oh God, that I was obviously wrong…"
She and her dad made the three-hour trip from Liverpool to Sheffield, getting there that night. Louise then remembers the scenes she witnessed at a local boys' club, which, in the immediate aftermath of the tragedy, was turned into an identification center for relatives of the victims.
"The only way I can describe this place is a hell on Earth. Literally, a hell on Earth. There was this room with all the people, families and the survivors. And, every so often, this police officer would stand on a chair and go 'Anybody recognize this jumper? Anybody recognize these trainers? Anybody recognize this scarf? And you didn't want to look, because you didn't want it to be your loved-one's."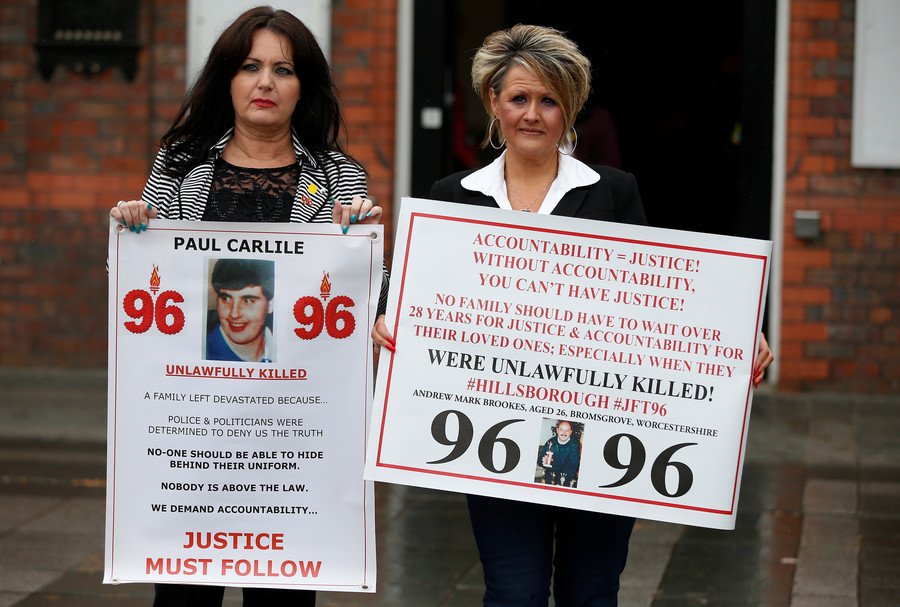 "When my dad got to Hillsborough and gave Andrew's name and description, the police officers said 'Go in, there is board of all the people. Go along the board, don't rush, take your time. Because I can assure you Mr. Brookes, that your son is not going to look like anything you last remembered him to look like.' They went through the board, couldn't find Andrew."
"And my dad said that there were people on that board, that you couldn't work out whether they were male or female, they were unrecognizable."
Louise and Andrew's dad was able to identify Andrew only after a third examination of the board.
The Hillsborough disaster was the biggest human crush in British sporting history, which happened at the Hillsborough football stadium in Sheffield, during the 1988–89 FA Cup semi-final game between Liverpool and Nottingham Forest, at which police and venue officials admitted too many fans into the stadium. The affected fans were in the Leppings Lane stand, where entry was possible only through one of seven decrepit turnstiles. The police opened an exit gate to relieve pressure, but this path led to a tunnel marked 'Standing', which, in turn, led to two already overcrowded enclosures.
You can share this story on social media: