Former US First Lady Barbara Bush dead at 92
Published time: 17 Apr, 2018 23:49
Edited time: 19 Apr, 2018 13:16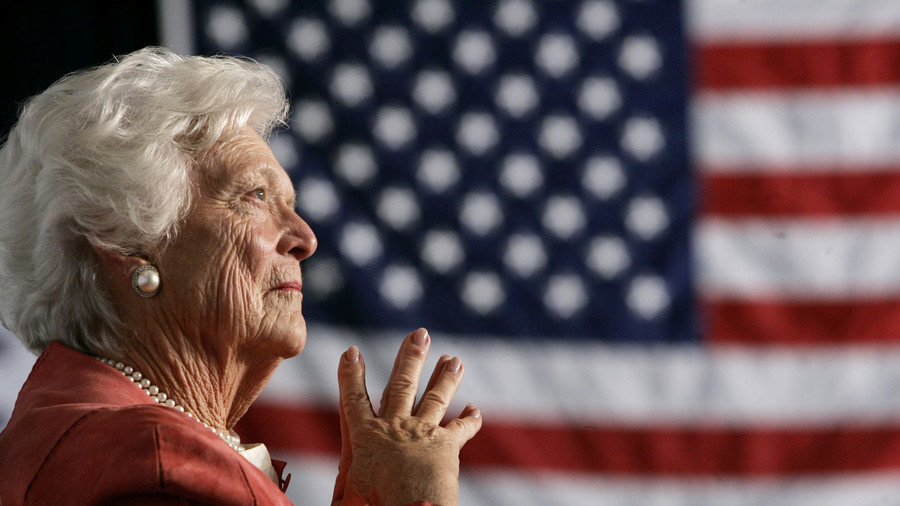 Barbara Pierce Bush, wife of one US president and the mother of another, has passed away at the age of 92, according to a statement from her family.
Barbara and her future husband George Herbert Walker Bush met in 1941 and married in 1945. They were married for 72 years, the longest marriage of any first couple in US history. She was Second Lady of the US from 1981 to 1989, and then First Lady between 1989 and 1993. During her time in the White House, she famously established the Barbara Bush Foundation for Family Literacy.
Eight years after her husband lost his re-election bid, Barbara Bush was helping their son George Walker Bush settle into the White House, the first son to follow his father into the presidency since John Quincy Adams did so in 1825.
"Ours souls are settled, because we know hers was," George W. Bush said on Tuesday evening, describing his mother as someone who "brought levity, love and literacy to millions."
Barbara Bush was described by many who knew her as a woman of strong character. On Sunday, she announced she would not seek additional medical care after several stints in hospital, leading to premature reports of her passing.
In 1988, Barbara Bush was the first wife of a candidate to address a Republican party convention that nominated her husband. The Bushes had six children, including George W, who served as governor of Texas and was a two-term president, and John Ellis 'Jeb' Bush, who was governor of Florida and ran for the GOP presidential nomination in 2016.
Barbara Bush will be "long remembered for her strong devotion to country and family, both of which she served unfailingly well," President Donald Trump said in a statement.
Think your friends would be interested? Share this story!