Trump mulls pardon of KO boxing legend Jack Johnson - but who was he?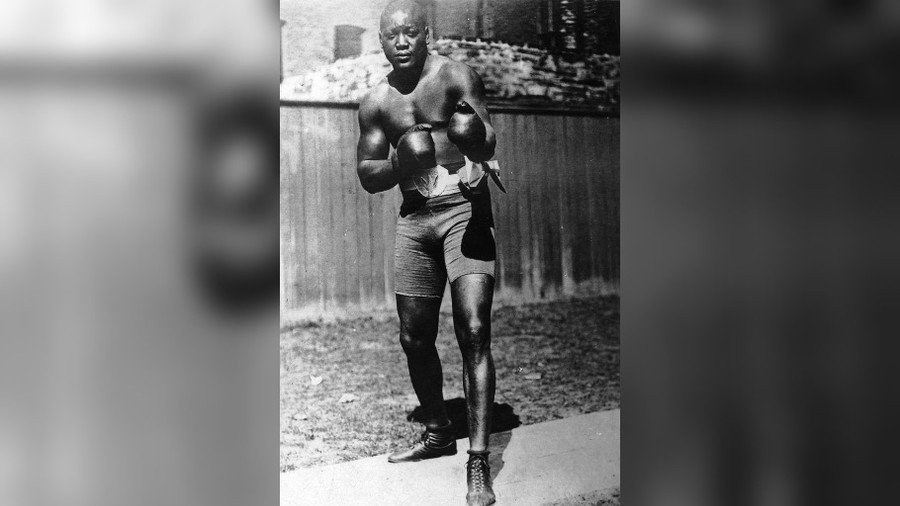 US President Donald Trump may overturn a century-old conviction which saw the first African American heavyweight boxing champion of the world locked up on a racially-motivated charge.
At 6ft (1.82 meters) in height and weighing over 200 pounds (91 kg), Jack Johnson, known as the Galveston Giant, pummeled his way past Jim Crow-era barriers to win the heavyweight boxing title in 1908. The champion later spent one year in prison for transporting a white woman across state lines, in a case that was largely seen to be racially motivated.
Trump has now said that after a call by Hollywood actor Sylvester Stallone, he is considering pardoning Johnson, convicted of breaking a law that was amended more than 50 years later for being too vague.
Sylvester Stallone called me with the story of heavyweight boxing champion Jack Johnson. His trials and tribulations were great, his life complex and controversial. Others have looked at this over the years, most thought it would be done, but yes, I am considering a Full Pardon!

— Donald J. Trump (@realDonaldTrump) April 21, 2018
The Galveston Giant
The Texas brawler, who typically picked off opponents as they tired, claimed a resounding victory in the "Fight of the Century," a bout against former champion James Jeffries, amid huge racial tensions.
Seen by many at the time as the "Great White Hope," Jeffries threw in the towel in round 15 of 45 as Johnson toyed with him in front of 15,000 boxing fans in Reno, Nevada. The 1910 victory made Johnson the undisputed champion, but also prompted race riots and run-ins with the law that would eventually see him put behind bars.
READ MORE: 'The Greatest': Muhammad Ali remembered on anniversary of boxer's birthday
Chastised for his relationships - each of his three wives were white - Johnson was found guilty in 1913 of violating the Mann Act, a law which prevented the transport of women across state lines for an "immoral purpose." Johnson's case was one of many brought against consensual adult relationships under morality laws, and came about due to his relationship with known prostitute Belle Schreiber.
According to the US National Archives, the boxer was indicted for simply providing money to Schreiber "to purchase a train ticket from Pittsburgh to Chicago." But the case has since been highlighted as an example of the government bringing down a man who had risen above the Jim Crow laws. Johnson eventually fled the country to Canada and also spent time in France before returning to see out his one-year prison sentence in 1920.
Prison prize fighter
Two months into his sentence, in an open-air ring at Leavenworth Penitentiary, Johnson took part in his first bout for seven years, knocking out two fellow inmates in quick succession. According to a contemporary report in The Dallas Express, Johnson's fights were the showpiece of a Thanksgiving Day event organized by the prison's warden.
"Johnson knocked out Frank Owens… in the last round of a six round bout, and after a few minutes intermission took on a fresh opponent," the newspaper said. "In the first bout Frank Owens, who weighed around 230 pounds, was knocked down twelve times, his ox-like bulk hitting the canvas seven times in the sixth round, the final punch, a terrific left hook to the jaw, sending him down and out."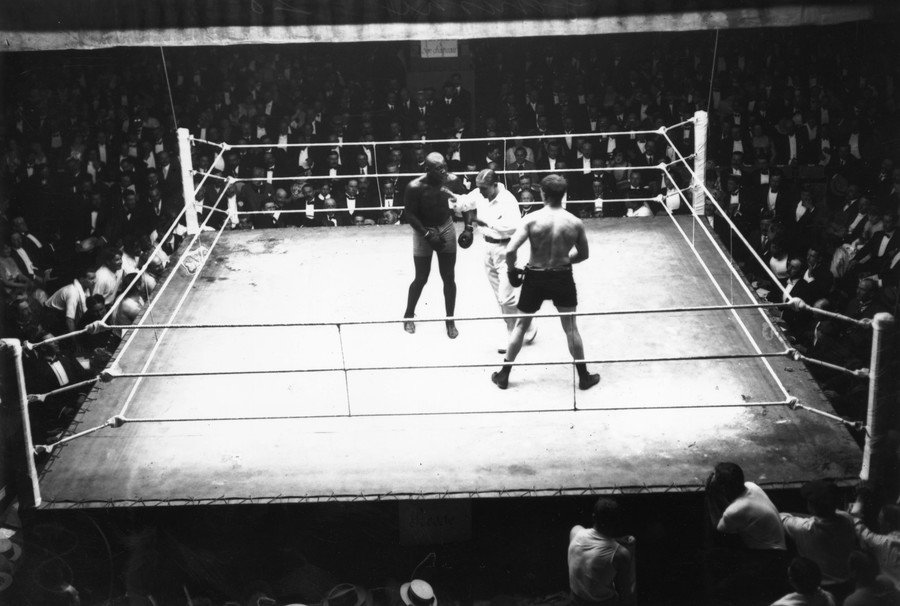 After his release, Johnson reportedly continued fighting well into his sixties but was killed in a car crash in 1946 at the age of 68.
Republican Senator John McCain has previously lobbied for Johnson's conviction to be overturned, saying that the greatest heavyweight fighter of his generation should have his legacy restored.
"Jack Johnson is a boxing and pioneer whose reputation was wrongly tarnished by a racially motivated conviction more than a century ago,"McCain said last year. "I hope President Trump will seize the opportunity before him to right this historical wrong and restore a great athlete's legacy."
Like this story? Share it with a friend!
You can share this story on social media: