Over-budget, problem-plagued US Navy ships face deployment delay – report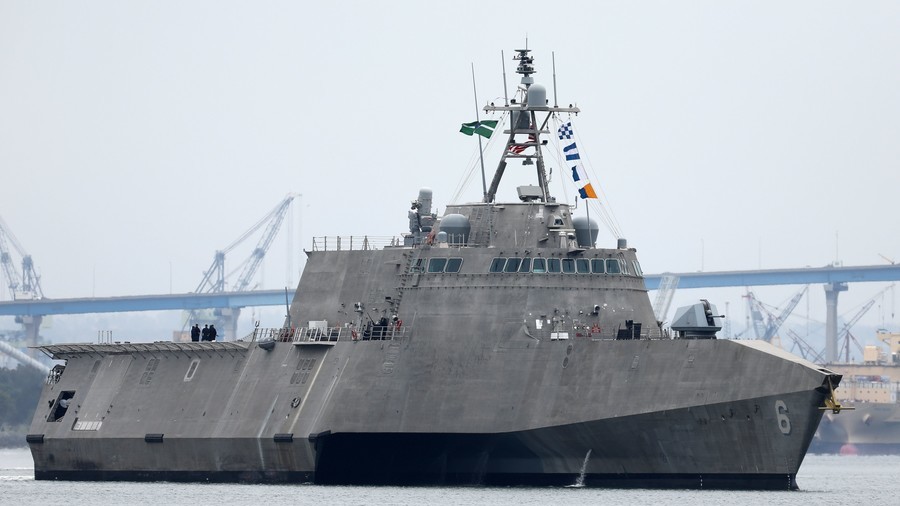 The US Navy's problem-plagued Littoral Combat Ships may not deploy this year due to maintenance issues, the US Naval Institute reported, raising suspicions that the navy has all but given up on the costly, ill-fated vessels.
Scheduled to deploy to Bahrain and Singapore this year, the navy's Littoral Combat Ship (LCS) fleet likely isn't going anywhere anytime soon – as most of the ships are undergoing repairs and upgrades. As USNI News reported, "In addition to the deploying ships themselves being in maintenance, so too are the training ships that will be required to help train and certify the crews." In other words, deployment is highly unlikely, since even the ships used to train new crews are not operational.
The LCS was supposed to give the navy a strategic edge in coastal waters, replacing frigates and destroyers in missions ranging from mine-sweeping and antisubmarine operations to surface warfare. Two different variants of the LCS were approved, with the first ship rolling off the dock in 2008. Once slated as the backbone of a new fleet consisting of 355 vessels in total, deliveries of the LCS have been slashed after years of ballooning costs coupled with crippling mechanical failures.
The Pentagon initially ordered 55 ships, but this number was later nearly halved. However, only 17 ships so far have been delivered. In 2016, the navy requested $12.4 billion for 26 LCS ships.
Initially expected to cost $220 million a ship, the program's cost has more than doubled to $478 million per vessel. In addition, the LCS's anti-mine capabilities, which were supposed to be operational in 2008, will not be in place until 2020.
A January 2018 report by the Pentagon's Office of Operational Test and Evaluation warned that the LCS was "not survivable in high intensity combat" and lacked "redundancy and the vertical and longitudinal separation of vital equipment" which help protect the ship from being neutralized by enemy fire.
In 2016, government auditors told the Senate Armed Services Committee that the LCS was behind schedule, over-budget and incapable of fulfilling missions it had been designed to undertake.
"I have found no evidence to date that LCS will be effective or survivable even in the scenarios and missions in which it was designed to be successful," J. Michael Gilmore, director of operational test and evaluation at the Department of Defense, told the committee.
At the time, Paul Francis, managing director at the Government Accountability Office, told the Senate that the navy's LCS contracts with General Dynamics and Lockheed Martin appeared to be based more on keeping docks open, rather than building ships that the US Navy could really use.
"Haven't we done enough for the industrial base? Isn't it time for the industrial base to come through for us? Can we get one ship delivered on time? Can we get one ship delivered with cost growth? Can we get one ship delivered without serious reliability and quality problems?" Francis said during his testimony.
Think your friends would be interested? Share this story!