Waiting for spring? New US warship trapped in icy Montreal waterway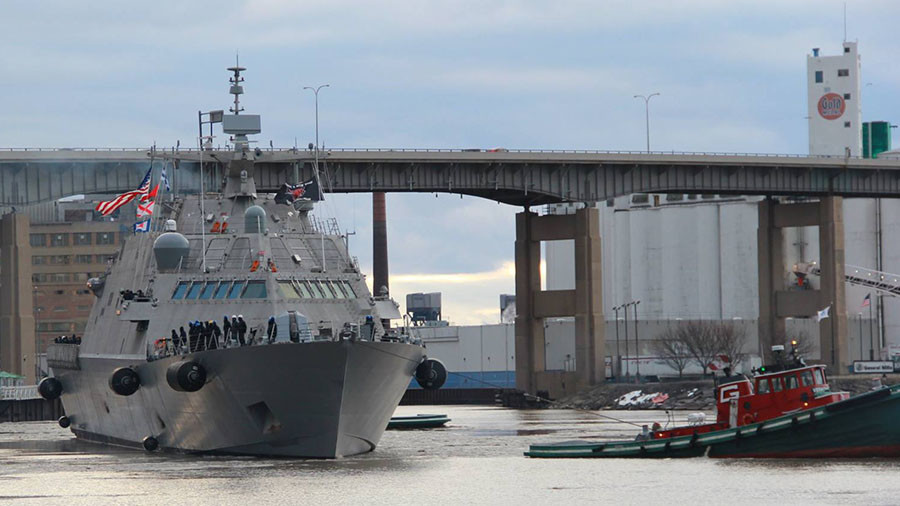 The Canadian climate is apparently too harsh for the US Navy, as one of its state-of-the-art vessels found itself trapped in ice in Montreal waterway and may spend the whole winter there before it can set sail again.
The US Navy's Freedom-class littoral combat ship USS Little Rock has been behind schedule almost from the very beginning of its military duties. Its first journey to its home port at Mayport Naval Station in Florida from Buffalo, New York, where it was commissioned on December 16, was delayed three days due to the weather.
The 118-meter warship also faced "a few challenges" on the way to Montreal, but safely arrived there on December 27. It was not supposed to spend more than one day in the city, but the weather sank the crew's plans again. The USS Little Rock found itself trapped in ice and has to wait for the spring thaw to move on.
"Significant weather conditions prevented the ship from departing Montreal earlier this month and icy conditions continue to intensify," a Navy spokesperson told the media. The official added that the vessel will stay there "until wintry weather conditions improve and the ship is able to safely transit through the St. Lawrence Seaway." However, navigation season there usually closes in January, and opens only in March.
In addition to ships apparently being too fragile to cope with the ice, the US Navy has some other issues to resolve.
US warships have been repeatedly involved in collisions, with at least three of them occurring last year. The last two crashes took place in the summer, and involved the USS Fitzgerald and the USS John S. McCain, leaving 17 crewmembers dead. Both incidents were found "avoidable," a Navy report said in November. The report recommended more sleep and improved training for sailors.
If you like this story, share it with a friend!
You can share this story on social media: