In historic first, Senator brings newborn baby into hallowed chamber, inspires vote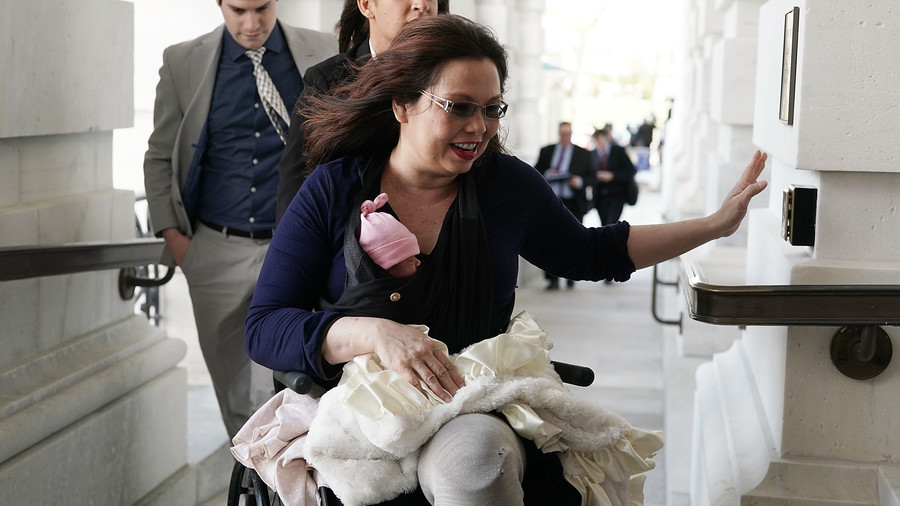 Senator Tammy Duckworth (D-Illinois) made history on Thursday when she became the first member to bring her newborn baby onto the floor of the US Senate. Duckworth is the first sitting senator to give birth in office.
The Illinois lawmaker tweeted a picture of baby Maile's outfit ahead of the pair's arrival at Capitol Hill. Duckworth was there to vote against President Donald Trump's nominee to take charge of NASA. Former Representative Jim Bridenstine of Oklahoma was approved by a narrow margin, 50-49.
"I made sure she has a jacket so she doesn't violate the Senate floor dress code (which requires blazers)," Duckworth wrote on Twitter. "I'm not sure what the policy is on duckling onesies, but I think we're ready."
May have to vote today.Maile's outfit is prepped.Made sure she has a jacket so she doesn't violate the Senate floor dress code requiring blazers.Not sure what the policy is on duckling onesies but I think we're ready pic.twitter.com/Phj6ZAFyKW

— tammyduckworth (@tammyduckworth) April 19, 2018
After giving birth earlier this month, Duckworth kicked off the debate over Senate rules that barred parents from bringing their children into the chamber. Since all Senate votes have to be cast in person, this would have prevented Duckworth from serving both the needs of her constituents and her newborn.
READ MORE: 'Vastly outnumbered' US forces would struggle to win war with North Korea – former general
The proposal to allow infants into the chamber was initially met with skepticism by some members, most notably Senator Orrin Hatch (R-Utah), who worried a rule change would lead to multiple babies crawling around the chamber in the future. However, a motion to allow entry for children under the age of one later passed without objection.
Currently, 21 women hold seats in the 100-member Senate. Only 50 women have served as senators in the history of the institution. Duckworth is one of 10 women to give birth while in Congress and gave birth to her first child while serving in the House of Representatives. She is a veteran of the Iraq War, where she lost both legs in combat.
Think your friends would be interested? Share this story!