Delta flight forced to make emergency landing after engine blaze (VIDEOS)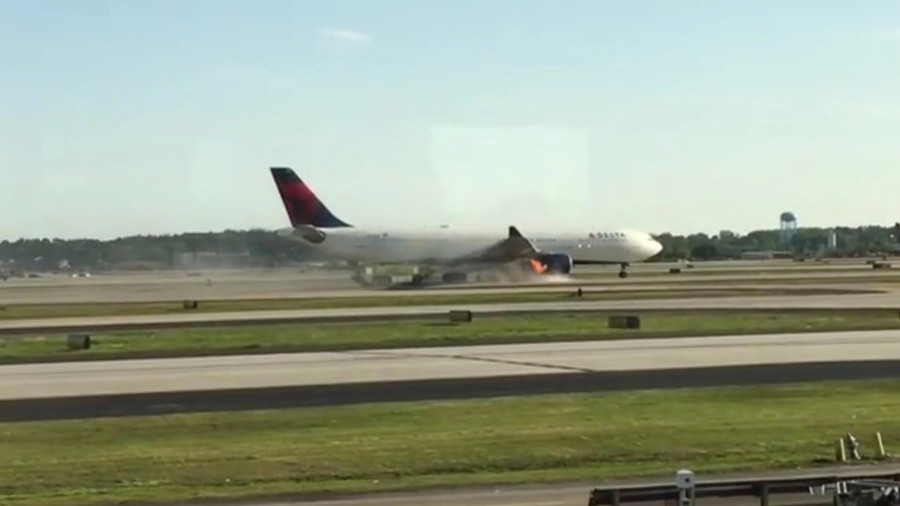 A Delta Air Lines flight from the US to London made an emergency landing in Atlanta, Georgia after an engine caught fire. It comes a day after a passenger died on a Southwest Airlines flight following an engine explosion.
The Airbus A330 left Atlanta bound for Heathrow Airport Wednesday evening, but was forced to return to its airport of departure after crews reported engine problems 20 minutes into the flight, reports KTVU FOX2.
FOX reporter Aiun Nettles, who was onboard at the time of the incident, posted footage showing alarming plumes of smoke coming from the engine.
READ MORE:Passenger dies after getting sucked through window as engine explodes on Southwest flight
The aircraft returned to Hartsfield Jackson International Airport in Atlanta approximately 40 minutes after take-off, and was met by fire crews who extinguished the blaze.
Passengers were put on another flight to London and the Federal Aviation Authority has launched an investigation into the incident.
One person was killed on a Southwest Airlines flight Tuesday after one of the plane's engines exploded mid-air. Jennifer Riordan, 43, died after being almost sucked out of a window which was smashed during the engine failure. The plane, which was travelling from New York to Dallas, made an emergency landing in Philadelphia.
READ MORE:Oxygen mask backlash: Image from Southwest flight sparks social media frenzy
Like this story? Share it with a friend!
You can share this story on social media: