Moment police punch, wrestle naked Harvard student to ground (VIDEO)
Published time: 17 Apr, 2018 21:06
Edited time: 18 Apr, 2018 07:46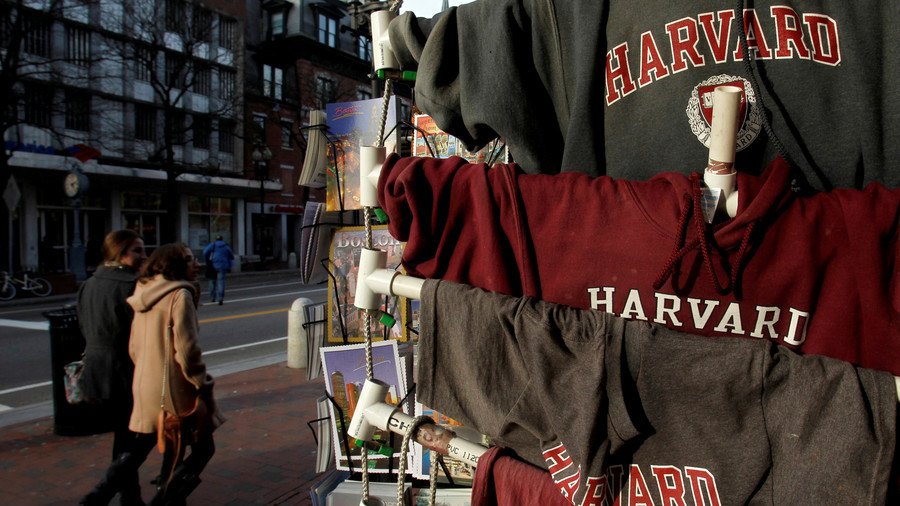 Disturbing video footage shot in Cambridge, Massachusetts, shows the moment police tackle a black Harvard University student to the ground and repeatedly punch him in the stomach, as bystanders watch from the sidewalk.
Though the incident happened on Friday night, video footage of the arrest was only released by the police on Monday. In it the man, identified as 21-year-old Selorm Ohene, is seen standing naked in the middle of the road surrounded by three officers. Another officer stops oncoming traffic.
Ohene appears to be conversing with one of the officers then turns towards another. Suddenly the officer he was talking to lunges at him, tackling Ohene to the ground. The other officers race over, pinning the shrieking student to the pavement as he is repeatedly punched.
Onlookers can be heard shouting at the officers to stop punching Ohene, with one pedestrian saying that they have the incident recorded. Once subdued, he was placed on a stretcher and put into the back of an ambulance.
According to the police report, officers had responded to a call from a woman who said that Ohene had taken his clothes off and thrown them at her. Once on the scene, "every attempt that was made to calm Ohene down and reason with him was met with opposition."
Arresting officer Steven Burke wrote that he "noticed two women" who "appeared to be acquaintances of Ohene" standing nearby. Burke asked the women if Ohene had taken any narcotics that night, to which one of them stated that he "possibly took LSD (acid)" - a powerful hallucinogenic drug.
"As Ohene and I conversed, I observed him clench both his fists. Ohene started to take steps towards officers in an aggressive manner. I perceived this as a threat and thought an attack was imminent," wrote Burke.
"Ohene's behavior could only be summed up as chaotic and tumultuous. Ohene then turned from me and started walking in the direction of Officer Maziarz. At that point, I made a tactical decision to grab his legs and bring him down to the ground…...Unable to pry Ohene's hands from underneath his body, I delivered approximately 5 strikes with a closed fists to the area of his stomach."
The Harvard Black Law Students Association disputed Burke's account in a statement, saying that the officer "without provocation, lunged at him (Ohene), tackled him and pinned him to the ground. While on the ground, at least one officer repeatedly punched the student in his torso as he screamed for help."
Ohene was charged with disorderly conduct, indecent exposure, resisting arrest, assault, and assault and battery on ambulance personnel. He allegedly spat a mixture of blood and saliva at a paramedic while inside the ambulance.
Think your friends would be interested? Share this story!