Protests shut down Philadelphia Starbucks over arrests of black men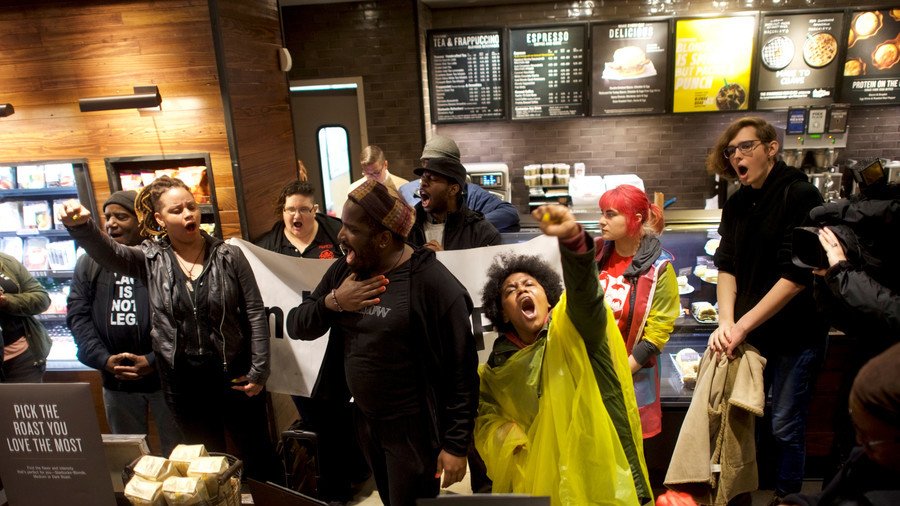 Protesters have taken over a Starbucks in Philadelphia to protest the arrest of two black men that were accused of trespassing at the coffee chain's outlet last week.
Video showing the arrest of the two men went viral on Thursday after the store's manager called police because the pair were sitting in the store without ordering anything. The two said they were waiting for a friend.
"We don't want this Starbucks to make any money today. That's our goal," Abdul-Aliy Muhammad, one of the protest's organizers and co-founder of the Black and Brown Workers Collective, reportedly said.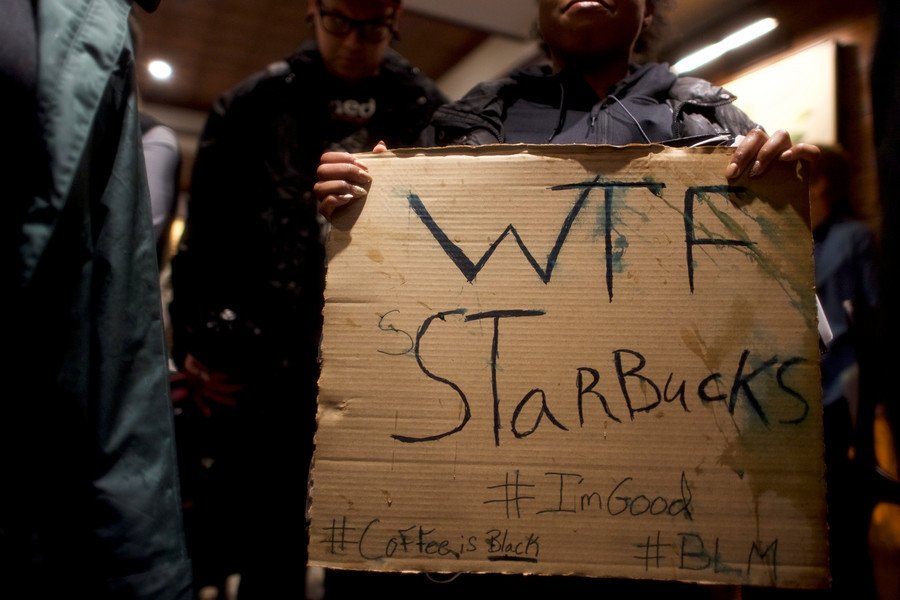 Protesters picketed outside the Starbucks before moving inside the store shortly after 7:00 am local time on Monday. They could reportedly be heard chanting "Starbucks coffee is anti-black" and "We are gonna shut you down" while holding banners reading "End Stop and Frisk," referring to a controversial police practice.
"We're politely allowing the protesters to speak and then [the baristas] will return to serving the community," Camille Hymes, the company's regional vice president told a reporter from the Philadelphia Inquirer. There were no baristas or staff on duty at the store.
READ MORE: Starbucks apologizes for coffee shop arrest of two black men (VIDEO)
The incident has heightened racial tensions in Philadelphia in recent days. Reverend Mark Tyler, pastor at Mother Bethel AME church, told the Inquirer that the arrest of the two men "demonstrates that if you're black there's nobody that's safe."
"You can't do any less threatening as a black person than hanging out at Starbucks," Tyler said. "It says to us that it doesn't matter what you attain in this country, black people and black lives are treated with the same amount of disrespect."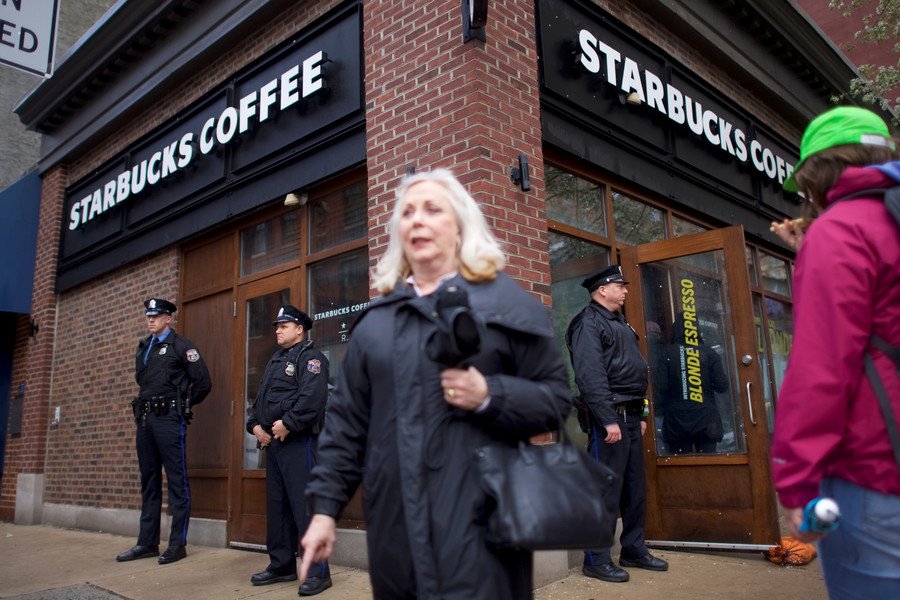 The incident has been a public relations disaster for the coffee chain. Starbucks CEO Kevin Johnson called the arrests a "reprehensible outcome."
READ MORE: Starbucks & co ordered to serve coffee in California with cancer warning
"I would like to have a dialogue with them to make sure we have the opportunity to really understand the situation and they can join me in finding constructive way to solve this issue," he told ABC's 'Good Morning America' on Monday.
The store's manager has now reportedly been fired, according to an ABC News report.
@Starbucks The police were called because these men hadn't ordered anything. They were waiting for a friend to show up, who did as they were taken out in handcuffs for doing nothing. All the other white ppl are wondering why it's never happened to us when we do the same thing. pic.twitter.com/0U4Pzs55Ci

— Melissa DePino (@missydepino) April 12, 2018
Prosecutors declined to charge the two men, who have not yet been identified. They were released eight hours after their arrest. A video of the incident, posted to Twitter by Philadelphia native Melissa DePino, has been viewed more than 4 million times.
If you like this story, share it with a friend!
You can share this story on social media: