Meeting with foreign adversaries? Good if you like the president, bad if you don't
Published time: 3 Apr, 2018 17:31
Edited time: 4 Apr, 2018 13:57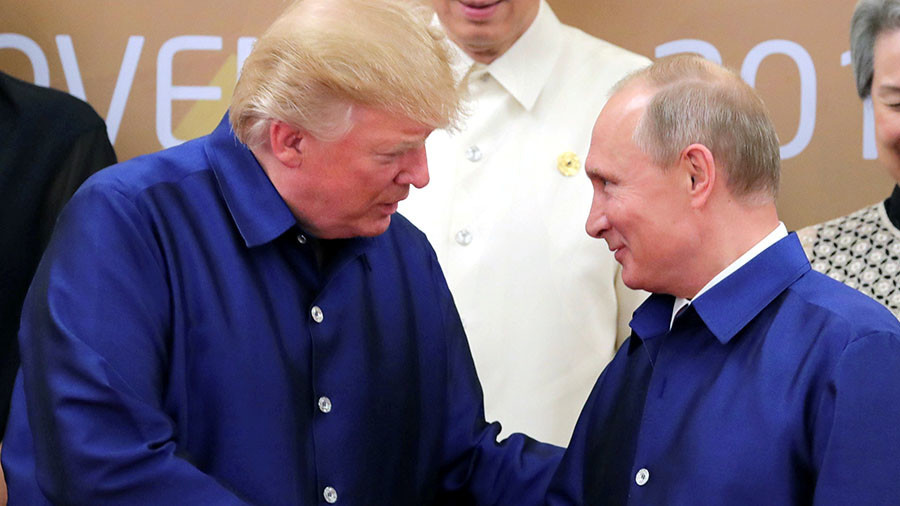 Is it a good or bad thing for the American president to meet with the leaders of so-called 'enemy' nations like North Korea, Iran and Russia? Well, it seems the answer depends on who you ask – and when you ask them.
When President Donald Trump announced last month that he would be willing to meet with North Korean leader Kim Jong-un, it prompted strong criticism from some Democrats. With news yesterday that Trump had also suggested a potential White House meeting with Russian President Vladimir Putin, the outrage kicked into overdrive.
Democrats, still eager to prove that Trump is colluding with Russia, immediately denounced the idea. The organizers of the anti-Trump March for Truth campaign were so angered by the thought of Putin setting foot on American soil that they pledged to organize a "massive protest" if the Russian leader enters the country.
The rabidly anti-Trump Democratic operative Scott Dworkin went so far as to suggest Trump should be impeached simply for inviting Putin to the White House for a meeting.



In 2018, meeting with foreign leaders seen to be adversaries to the United States is apparently a very bad thing, according to Democrats – and an absolutely wonderful idea, if you ask Republicans, many of whom are hailing Trump as a foreign policy hero for his willingness to meet Kim. Some have even suggested he might deserve the Nobel Peace Prize if the meeting goes well.
How quickly times change. In 2008, it was a very different story.
When then presidential candidate Barack Obama famously said in a debate that he would be willing to meet with the leaders of 'rogue states' including Iran, Syria, Venezuela, Cuba and North Korea, Republicans were not on board at all. For the remainder of the campaign, they hammered Obama relentlessly on his lack of foreign policy experience and repeatedly warned that meeting with the leaders of such countries would be dangerous.

Later, when President Obama met and shook hands with Cuban President Raul Castro at a memorial service for Nelson Mandela in South Africa, Senator John McCain (R-Arizona) compared Obama to 'Hitler appeaser' Neville Chamberlain.

Fox News host Sean Hannity called Obama's willingness to meet with the North Korean leader at the time one of the "most disturbing displays" of his lack of foreign policy experience. But, when Trump announced he would be willing to meet with Kim this year, Hannity called it a "huge foreign policy win" for the White House.

Many Democrats, on the other hand, had cheered Obama's willingness to meet with America's enemies. Obama was seen by Democrats to be a foreign policy reformer. He called the Bush administration a "disgrace" for not meeting and pursuing diplomacy more vigorously with the leaders of those countries. Democratic support for Obama's readiness to meet foreign adversaries is in stark contrast to their vehement opposition to a meeting between Trump and Putin.



The chopping and changing serves to prove only that partisanship seems to be more important than independent thought, and that ideologues will swing back and forth, for or against an idea, based on their like or dislike of the occupant of the White House.