Trump says deal with North Korea 'very much in the making'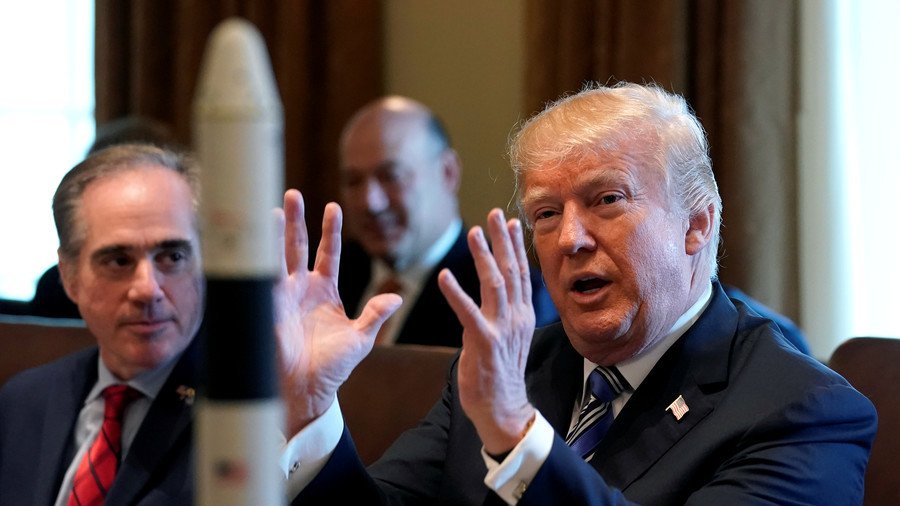 US President Donald Trump believes he is capable of reaching a deal with North Korea that will be a "very good one for the world," he said, after agreeing to talks with Pyongyang following Kim Jong-un's invitation for a meeting.
"The deal with North Korea is very much in the making and will be, if completed, a very good one for the World," Trump tweeted on Friday evening, adding that the time and the place of the planned meeting is still to be determined.
Trump agreed to hold discussions with North Korea, provisionally expected sometime in May, after a South Korean delegation, which met with Kim on Monday, delivered his personal invitation for talks to the US president.
The deal with North Korea is very much in the making and will be, if completed, a very good one for the World. Time and place to be determined.

— Donald J. Trump (@realDonaldTrump) March 10, 2018
However, before any agreement can be reached between the adversaries or sanctions can be lifted, Washington will require Pyongyang to take "concrete and verifiable steps" towards denuclearization of the peninsula. "This meeting won't take place without concrete actions that match the promises that have been made by North Korea," White House press secretary Sarah Sanders said Friday.
Announcing the monumental breakthrough in the Korean stalemate at the White House on Thursday, South Korean National Security Adviser Chung Eui-yong noted that Kim Jong-un is "committed to denuclearization," and has "pledged" to refrain from any further nuclear or missile tests until talks with Trump take place. Surprisingly, according to the official, Kim also showed understanding towards the US-South Korean drills, which have greatly contributed to the ongoing tensions in the region.
While the North seems to be keen to engage in diplomacy, the US has yet to offer any concessions or promises. "The United States has made zero concessions, but North Korea has made some promises," Sanders noted. "For the first time in a long time, the United States is actually having conversations from a position of strength, not a position of weakness like the one that North Korea finds itself in."
"I think that the President is getting exactly what he wants. He is getting the opportunity to have the North Koreans actually denuclearize," Sanders added.
The Korean peninsula has been divided since 1953, after an uneasy armistice suspended the bloody, three-year conflict between the Communist North and the US-allied South. In a historic move toward national reconciliation, last month North and South Korean athletes competed together at the Winter Olympics in PyeongChang.
READ MORE: N. Korea's Kim regaled South's delegates with wine & self-deprecating jokes
For months, the Trump administration has applied "maximum pressure" on North Korea to tackle the country's ballistic missile and nuclear program. Amid the unprecedented level of sanctions which the US has unilaterally imposed, Washington has also continued to maintain military pressure on Pyongyang, sending in armadas to Korean waters and conducting flyovers near Korean airspace. The administration also made clear that, if diplomacy fails, it is ready to pursue a military option to force N. Korea to denuclearize.
If you like this story, share it with a friend!
You can share this story on social media: