John Dowd resigns as Trump's top attorney in Mueller's Russia probe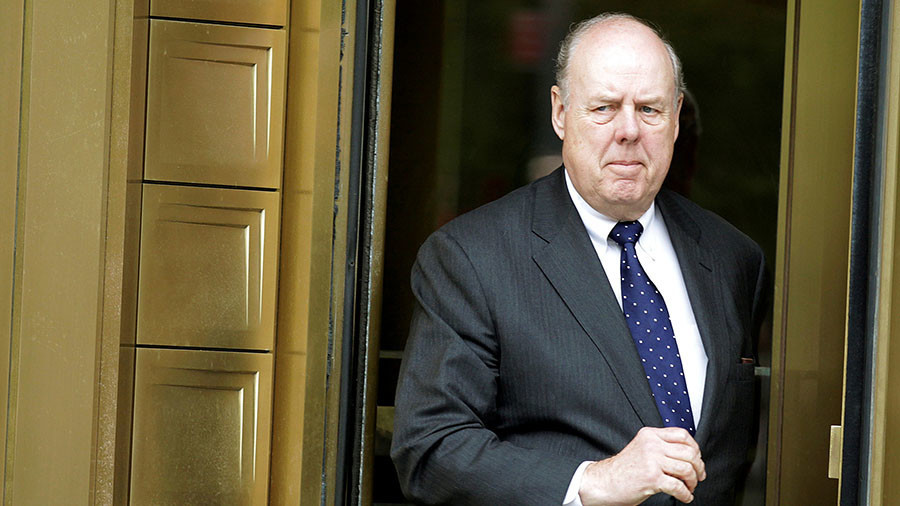 US President Donald Trump's lead lawyer, John Dowd, has resigned from the legal team handling Trump's response to Mueller's special counsel inquiry. It comes as Trump faces pressure to testify in Mueller's Russia probe.  
Dowd's resignation on Thursday, first reported by the New York Times, represents a major shake-up to Trump's legal team. "I love the President and wish him well," Dowd said.
Dowd made headlines last week after he called on Attorney General Jeff Sessions to "bring an end to alleged Russia collusion investigation" manufactured by James Comey "based upon a fraudulent and corrupt dossier."
Special counsel Mueller is investigating alleged Russian interference in the 2016 election and possible collusion between Trump and Russia.
Trump has been increasingly vocal about his dislike for the Mueller investigation in recent weeks, tweeting that the enquiry is based on "fraudulent activities."
The Mueller probe should never have been started in that there was no collusion and there was no crime. It was based on fraudulent activities and a Fake Dossier paid for by Crooked Hillary and the DNC, and improperly used in FISA COURT for surveillance of my campaign. WITCH HUNT!

— Donald J. Trump (@realDonaldTrump) 18 March 2018
Why does the Mueller team have 13 hardened Democrats, some big Crooked Hillary supporters, and Zero Republicans? Another Dem recently added...does anyone think this is fair? And yet, there is NO COLLUSION!

— Donald J. Trump (@realDonaldTrump) 18 March 2018
The Failing New York Times purposely wrote a false story stating that I am unhappy with my legal team on the Russia case and am going to add another lawyer to help out. Wrong. I am VERY happy with my lawyers, John Dowd, Ty Cobb and Jay Sekulow. They are doing a great job and.....

— Donald J. Trump (@realDonaldTrump) 11 March 2018
Dowd opposed Trump's wish to be interviewed by Mueller's office as part of the probe. He took over Trump's legal team last summer.
"John Dowd is a friend and has been a valuable member of our legal team. We will continue our ongoing representation of the President and our cooperation with the Office of Special Counsel," Jay Sekulow, counsel to the president, said.
Think your friends would be interested? Share this story!
You can share this story on social media: