Trump denies New York Times report he tried to fire Mueller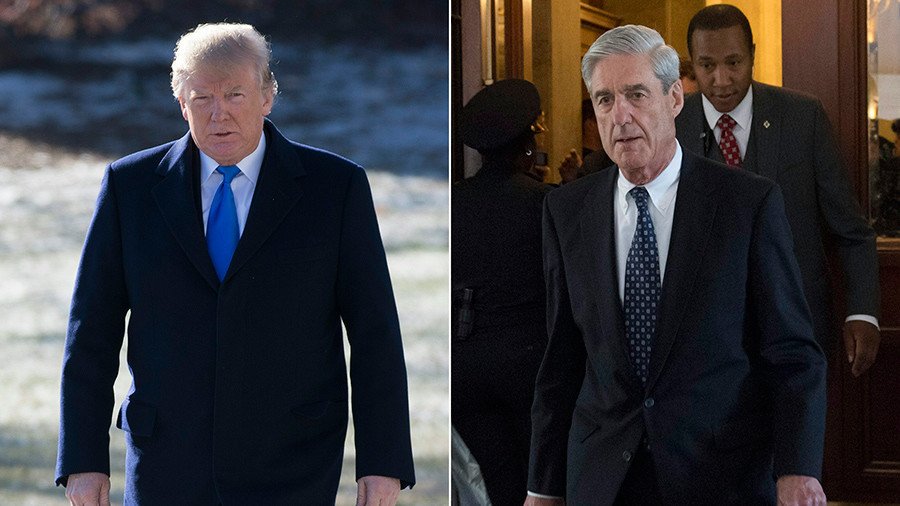 US President Donald Trump has dismissed a report that he tried to fire special counsel Robert Mueller last June as 'fake news.' The New York Times based the story on anonymous sources.
"Fake news, folks. Fake news. A typical New York Times fake story," Trump said on Friday in Davos, Switzerland, where he is attending the World Economic Forum.
The Times published the story on Thursday, claiming that Trump ordered the firing of Mueller in June, but backed off after White House counsel Don McGahn threatened to resign, "according to four people told of the matter."
The story did not include a comment from McGahn, or any references to the Times trying to reach him. The Times did quote a statement from Ty Cobb, Trump's attorney who is dealing with the special counsel investigation.
"We decline to comment out of respect for the Office of the Special Counsel and its process," Cobb said.
For those insisting Trump never directed Mueller's firing/McGahn didn't threaten to quit, it's been 17 hours since our story published. McGahn/White House have not denied this report. https://t.co/0FqR2cUjxu

— Maggie Haberman (@maggieNYT) January 26, 2018
According to the Times, McGahn refused to carry out Trump's order to fire Mueller and threatened to resign, telling senior White House officials that firing the special counsel would have "a catastrophic effect" on the presidency.
Mueller was appointed to oversee the probe into allegations that the Trump campaign somehow colluded with Russia during the 2016 presidential election, after Trump fired FBI Director James Comey in early May 2017. Comey later testified to Congress that he leaked notes of his meetings with Trump to the New York Times because "it might prompt the appointment of a special counsel."
According to the Times, citing unnamed "current and former White House officials," Trump pointed out that Mueller could not be impartial because he resigned from the Trump National Golf Club in Virginia in 2011, had worked for the law firm that represented Trump's son-in-law Jared Kushner, and had been interviewed for the position of FBI director the day before he was appointed special counsel by Deputy Attorney General Rod Rosenstein. Mueller headed the FBI between 2001 and 2013.
Mueller's resignation from the golf club was sourced to a July 2017 Washington Post story, which one of Trump's attorneys, John Dowd, described as "not true" and "nonsense" at the time. A June 18, 2017 New York Times story mentioned that Mueller had been a partner in the Washington law firm WilmerHale with Kushner's attorney Jamie Gorelick.
Trump has repeatedly denied rumors that he intended to fire Mueller. Before departing for Davos, Trump said he was "looking forward" to being interviewed, under oath, by Mueller's investigators.
Talk of Mueller's impending dismissal flared up in December, following revelations that several members of his team were reassigned over text messages revealing anti-Trump bias. Those text messages have been a focus of a probe by the Department of Justice inspector-general. Five months' worth of texts were reported "missing" earlier this month, but the inspector-general informed Congress this week they have been successfully recovered.
One of the authors of Thursday's New York Times article, Maggie Haberman, previously worked for Politico. In correspondence made public in October 2016, Hillary Clinton's campaign staff described having a "very good relationship" with Haberman.
"We have had her tee up stories for us before, and have never been disappointed," wrote Nick Merrill, the campaign press secretary.
A number of prominent Democrats claimed Trump was going to fire Mueller at the end of December, when Congress was on recess. This did not happen. Over the past year, multiple outlets have reported that Trump was about to fire Attorney General Jeff Sessions and Secretary of State Rex Tillerson, both of whom continue to serve in the Trump administration.
You can share this story on social media: