Trump not firing Tillerson, no changes planned at State Department - Nauert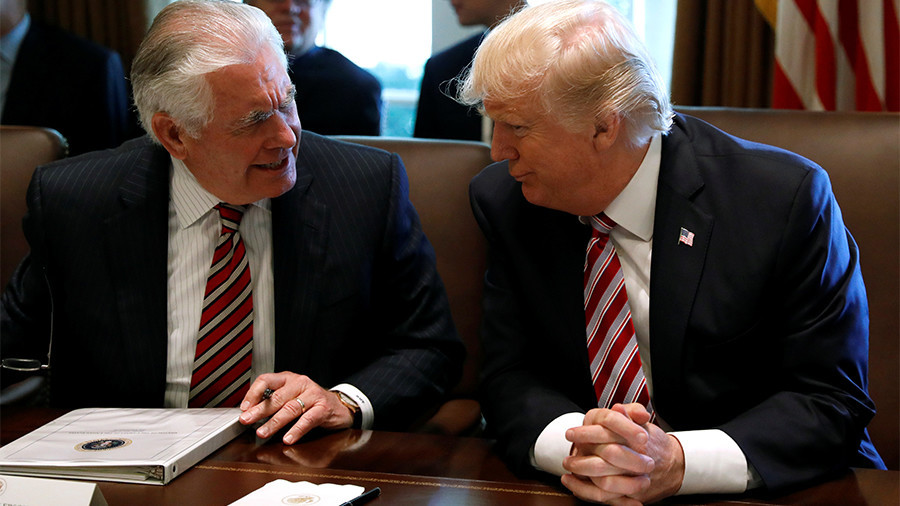 President Donald Trump and Secretary of State Rex Tillerson have areas of disagreement when it comes to US policy, but there are no plans to replace him, State Department spokeswoman Heather Nauert said. She was later backed by the White House.
Nauert was responding to speculation in Washington, fueled by a New York Times report published Thursday morning and citing an anonymous White House official, that Trump was considering ousting Tillerson and replacing him with CIA chief Mike Pompeo. Senator Tom Cotton (R-Arkansas) was mentioned as the possible replacement for Pompeo.
Trump's chief of staff, John F. Kelly, called the State Department earlier in the day and said the media reports of Tillerson's impending dismissal "were not true," Nauert said. No personnel changes were planned at the State Department, she added.
The White House also confirmed that Tillerson remains the top US diplomat.
"The secretary of state is here, and we're working hard to get big things accomplished," White House spokeswoman Sarah Huckabee Sanders told reporters Thursday.
All Cabinet secretaries serve at the pleasure of the president, Sanders reminded reporters, and when Trump loses confidence in someone they will no longer serve in the administration. Tillerson continues to serve, Sanders pointed out.
"I don't know where these stories are coming from," she added. The secretary of state is a pretty tough guy."
Asked about the report, which the media have already dubbed 'Rexit,' Defense Secretary James Mattis said "there is nothing to it."
#SecDef Jim Mattis on #Rexit talk, from pool report: Q: "What do you make of reports of TIllerson stepping down?" Mattis: "I make nothing of it, there's nothing to it"

— Jamie McIntyre (@jamiejmcintyre) November 30, 2017
The US media have already "fired" Tillerson once before. In early October, NBC News reported that Vice President Mike Pence had to talk the secretary of state out of resigning, after Tillerson insulted Trump's intelligence during a midsummer meeting.
Tillerson, a former Exxon Mobil executive, dismissed the NBC report as "petty nonsense" and said he never considered resigning.
Trump said at the time he had "full confidence" in Tillerson and branded the NBC report "fake news, totally phony."
You can share this story on social media: