How to get away from Mueller: 'Crazy' Trump aide refuses subpoena on TV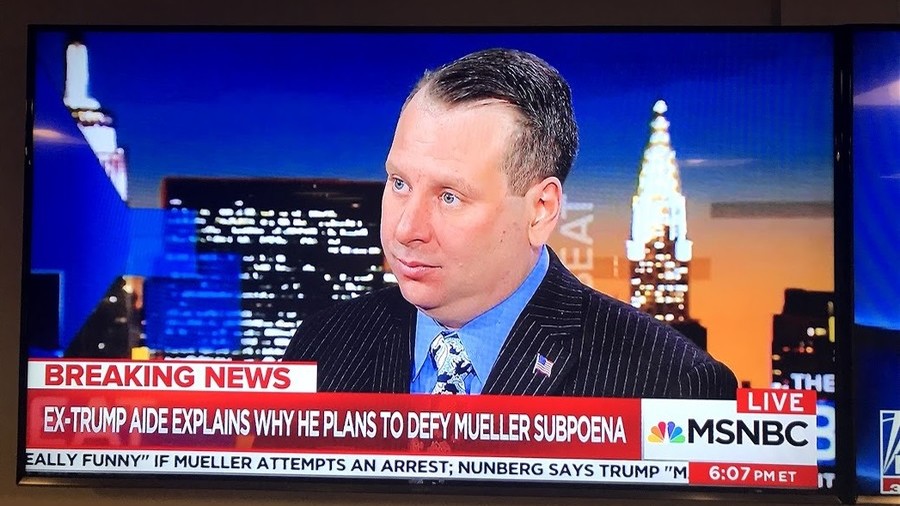 Is he crazy, or crazy like a fox? One-time Trump aide Sam Nunberg went on every major network to declare that he would not comply with a subpoena by special counsel Robert Mueller, leaving Washington insiders confused.
A grand jury subpoena demands Nunberg's appearance on Friday this week, and seeks documents he has related to the Trump campaign, including emails, correspondence, invoices, telephone logs, calendars and "records of any kind" with nine other people. Mueller is investigating allegations that President Donald Trump and his campaign somehow "colluded" with Russia during the 2016 election.
In response, Nunberg opened up to the Washington Post, Fox News, CNN and MSNBC - to proclaim he will not comply.
"Let him arrest me," Nunberg said. "Mr. Mueller should understand I am not going in on Friday."

"I'm not spending 80 hours going over my emails with Roger Stone and Steve Bannon and producing them," Nunberg told the outlets. "Donald Trump won this election on his own. He campaigned his ass off. And there is nobody who hates him more than me."
The former aide also said he intended to tear up the subpoena on Bloomberg TV. Or maybe the Weather Channel?
In his numerous rambling interviews, Nunberg took a jab at fellow campaign staffer Carter Page, and said he believed Page "colluded with the Russians," music to the ears of Russiagate twitter.
"I suspect that they suspect something about him," Nunberg told CNN's Gloria Borger, referring to Mueller's investigation of Trump. "I think they have him on something," he told CNN's Jake Tapper later.
"By the way, I think my lawyer is going to dump me right now," he told MSNBC's Katy Tur.
White House officials watching Nunberg's media blitz - which began around 2:30 Monday afternoon - reportedly described his comments as "bizarre" and "nuts."
"I can't speak to him or the lack of knowledge that he clearly has," White House press secretary Sarah Huckabee Sanders told reporters, adding "there was absolutely no collusion between the Trump campaign and any foreign government."
Oddly enough, that's what Nunberg had told the Washington Post.
"The Russians and Trump did not collude," Nunberg said. "Putin is too smart to collude with Donald Trump."
The all-over-the-place nature of Nunberg's comments have prompted some to wonder whether he was using the media to pre-emptively discredit the Mueller probe, or trying to protect his mentor Roger Stone and colleague Steve Bannon, the former Breitbart executive who was famously burned by the White House over Michael Wolff's book 'Fire and Fury.'
"Why does Bob Mueller need to see my emails when I send Roger and Steve clips and we talk about how much we hate people?" Nunberg asked on MSNBC. "This subpoena is absolutely ridiculous."
Mueller's investigators have reportedly already interviewed Nunberg. He was fired from the Trump campaign in July 2015, after it emerged he had posted racist comments on Facebook years ago. In one of the posts, he referred to former President Barack Obama as a "Kenyan" and a "Muslim," and called him a "Socialist Marxist Islamo Fascist Nazi Appeaser" in another, according to The Hill.
The campaign later sued him for $10 million for leaking information to the media. The lawsuit was settled in August 2016.
Like this story? Share it with a friend!