Welcome to #Resistance: Steve Bannon, liberals' new hero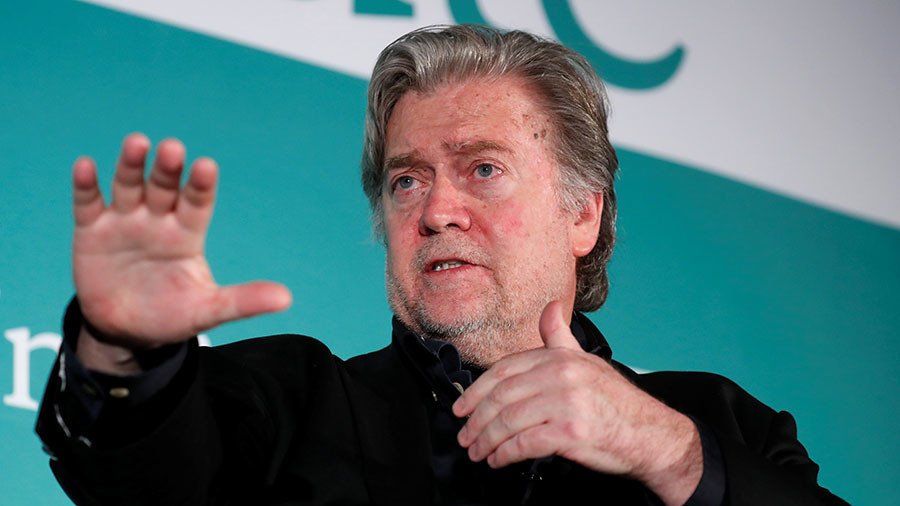 Anti-Trump liberals are giddy over former White House chief strategist Steve Bannon's attacks on the administration, details of which are to be revealed in an upcoming book describing the chaos in Trump's White House.
The book, titled 'Fire and Fury: Inside the Trump White House,' was given in advance to The Guardian. It is said to detail the tumult inside the Trump presidency and features scathing attacks on President Donald Trump by his former chief strategist, along with allegations of collusion with Russians.
Author Michael Wolff writes that Bannon described the July 2016 meeting between Donald Trump Junior and a Russian Lawyer at the Trump Tower as "treasonous, or unpatriotic, or bad shit."
READ MORE: 'Inane nonsense': Trump Jr. releases Russian lawyer meeting emails
If true, Bannon's comments are an about-face from his September 2017 appearance on 60 Minutes, when he called the Russia investigation a "farce" and a "waste of time."
Bannon is also said to have warned that special counsel Robert Mueller's probe into alleged collusion with Russia will focus on money laundering. "They're going to crack Don Junior like an egg on national TV."
Bannon has, so far, neither confirmed nor denied the veracity of the quotes. Breitbart News, where Bannon serves as executive chairman, reported on The Guardian's revelations without comment.
While the book won't be released until January 9, Bannon's quotes are making waves on social media. Though the Breitbart News editor-in-chief, who boasted that he made the outlet the "platform for the alt-right," has been reviled by liberals, his allegations are being heralded as a potential smoking gun that will prove allegations of collusion between Trump and Russia.
The welcoming of Steve Bannon is a far cry from what was once the mainstream Democratic Party stance. Following Trump's election in November 2016, 120 members of Congress signed a petition demanding he drop Bannon from his administration.
The irony of Bannon's newfound acceptance by Russia-obsessed liberals is not lost on all commentators.
You can share this story on social media: