Police release video of fatal Uber driverless cab collision (GRAPHIC)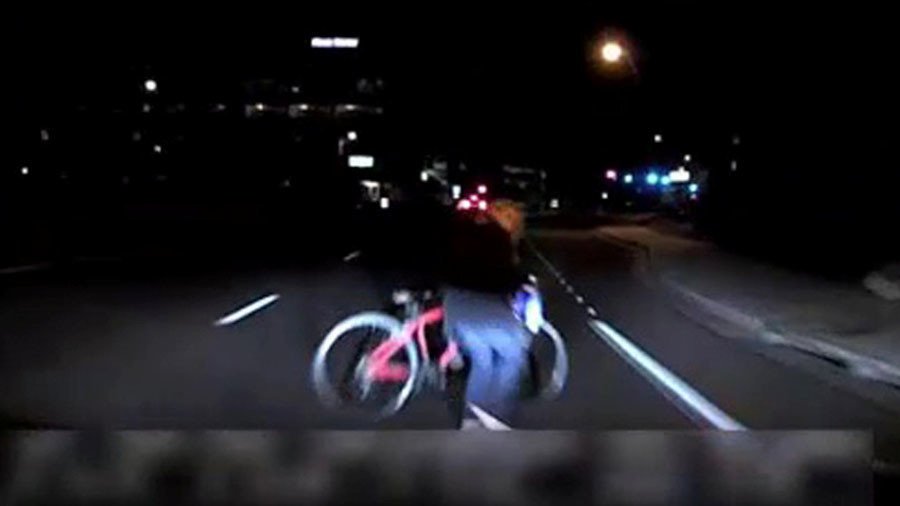 The moment a woman was run down and killed by an experimental driverless Uber taxi was captured in a shocking video. Police in Tempe, Arizona, released the clips taken by onboard cameras.
A dashboard camera shows the car driving along a road at night in the suburb of the state capital, Phoenix, on Sunday night. A woman wheeling a bicycle across the road comes into view, but the car fails to stop in time and hits her squarely.
The video freezes and cuts just before the impact, so as not to show the graphic result. The victim, Elaine Herzberg, 49, died of her injuries.
Tempe Police Vehicular Crimes Unit is actively investigatingthe details of this incident that occurred on March 18th. We will provide updated information regarding the investigation once it is available. pic.twitter.com/2dVP72TziQ

— Tempe Police (@TempePolice) March 21, 2018
In the second segment of the video, released by the Tempe Police Department, the car's human back-up driver is seen glancing down at something in her lap. Too late, she notices the woman crossing the road and apparently gasps or cries out.
READ MORE: Uber suspends self-driving vehicle tests after fatal crash
Uber suspended its driverless taxi testing program following the death, and the National Transportation Safety Board has opened an investigation.
Think your friends would be interested? Share this story!
You can share this story on social media: