'US drug prices will drastically fall': Trump outlines plan to fight opioid epidemic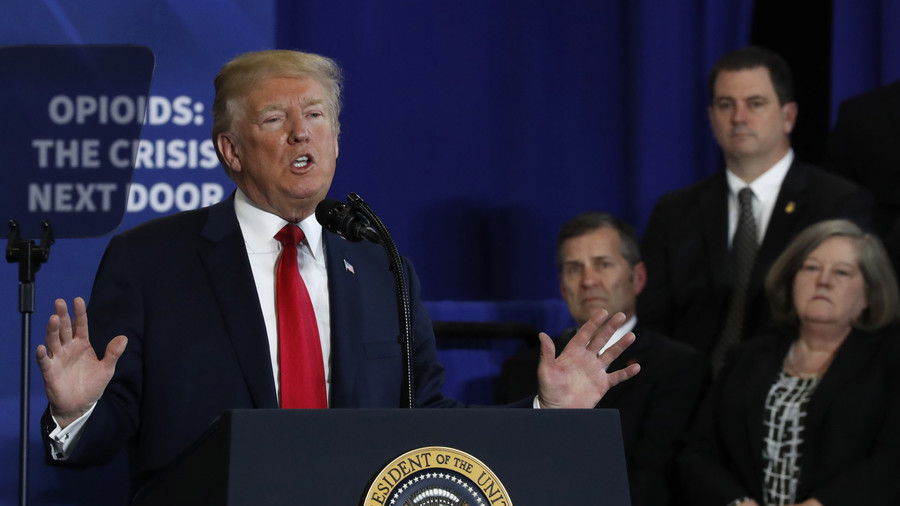 President Donald Trump has promised that US drug prices will fall substantially in the near future. Drug companies could also face lawsuits as part the devastating opioid crisis in America, he warned.
Trump made the remarks at an event in Manchester, New Hampshire, where he outlined a broad range of proposals to tackle opioid abuse. The state has some of the highest levels of opioid addiction, which mainly affects rural communities.
One of the core policy objectives of the Trump administration has been reducing the price of prescription drugs in the US, which remain higher than in most other developed countries. "We pay as a country so much more for drugs because of the drug lobbies and other reasons, and the complexity of distribution which is basically another term for saying, 'how do we get more money,"' Trump said at the event.

He stated that he was working with Congress to provide $6 billion in new funding to tackle the opioid crisis, adding that the US would "engage with China and expand cooperation with Mexico to reduce supplies of heroin, other illicit opioids, and precursor chemicals."
On Monday, Trump also reiterated his aim to introduce the death penalty for drug dealers with the backing of Attorney General Jeff Sessions. On Sunday, the White House announced that the Justice Department would seek the death penalty against drug traffickers. "The Department of Justice will seek the death penalty against drug traffickers when it's appropriate under current law," Domestic Policy Council Director Andrew Bremberg told reporters at a briefing on Sunday.
In October 2017, Trump called the opioid epidemic "the worst drug crisis in America," and declared it a nationwide public health emergency, although he did not set aside funding for it. On Monday, he pledged to cut the number of opioid prescriptions by one-third in upcoming years.
Like this story? Share it with a friend!