Trump is (still) not firing Mueller after angry Tweet sparks concern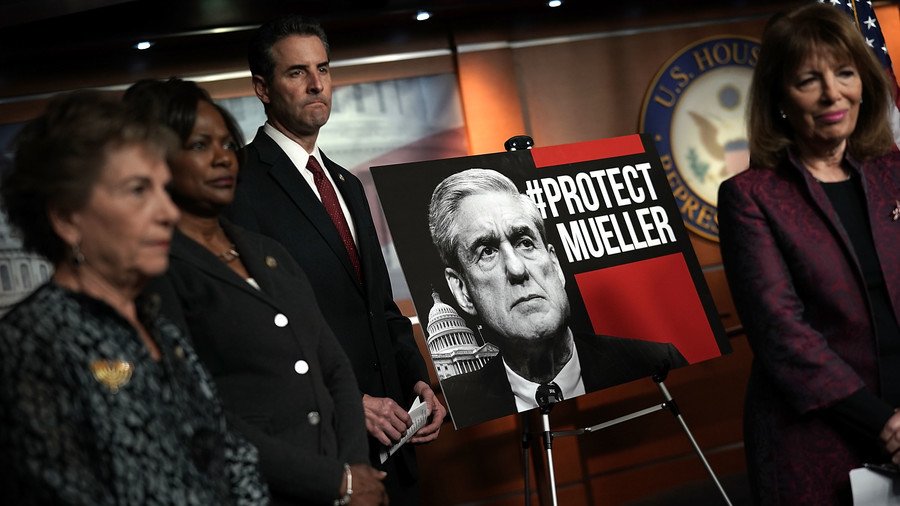 President Donald Trump's lawyer said that he has no plans to fire Special Counsel Robert Mueller. The US leader again reignited the rumors of an impending ouster by attacking the 'Russiagate' probe chief on Twitter.
"In response to media speculation and related questions being posed to the Administration, the White House yet again confirms that the President is not considering or discussing the firing of the Special Counsel, Robert Mueller," Trump's lawyer, Ty Cobb, said in a statement on Sunday, as he sought to debunk the recurrent media reports that Mueller's career as the chief investigator of purported 'Trump-Russia collusion' is hanging in the balance.
The fresh speculations over Mueller's fate were triggered by Trump himself, who went on yet another Twitter rant over the weekend, writing that the probe "should have never been started."
He then called out Mueller for bias, referring to the make-up of his team as "13 hardened Democrats, some big Crooked Hillary supporters, and Zero Republicans?"
"Another Dem recently added...does anyone think this is fair?," Trump wrote, before stressing that there was no collusion between his team and Russia.
That Saturday also marked the first time that Trump mentioned Mueller by name in his criticisms about the investigation, which he calls a "witch hunt." This, too, added to the speculations that a termination is imminent – and the number of 'Russiagate' advocates that scrambled to defend Mueller.
Senate Minority Leader Chuck Schumer (D-New York) appealed to Senate Republicans to "stand up" against Trump's crusade against Mueller, calling his potential firing "a red line for our democracy that cannot be crossed."
Republican hardliner Senator John McCain (R-Arizona) also threw his weight behind Mueller, saying it is "critical" that Mueller is allowed to proceed with the probe "unimpeded."
His long-time ally, Senator Lindsey Graham (R-South Carolina) echoed those concerns when speaking to CNN, warning that firing Mueller "would be the beginning of the end" of Trump's presidency.
In a new twist in the lingering probe, Mueller reportedly subpoenaed the Trump Organization, which oversees all of Trump's business ventures, for Russia-related documents. Trump previously drew his own "red line" in the Mueller probe, telling the New York Times in July that if Mueller poked into his family finances not connected to Russia, it would constitute a "violation."
Since the beginning of the probe, the White House has repeatedly had to quash rumors of Mueller's imminent ouster. In January, Trump blasted the New York Times story, claiming that he had tried to fire the Special Counsel in July, as "fake news."
"A typical New York Times fake story," Trump said at the time.
In a Saturday comment to the Daily Beast, Trump's lawyer, John Dowd, said that he "prays" Acting Attorney General Rosenstein will "bring an end to alleged Russian Collusion investigation." However, he later backtracked on his statement, noting that he was only speaking in his personal capacity.
You can share this story on social media: