Fired ex-FBI 2nd man McCabe gave 'Russiagate' investigator Mueller his memos on Trump – report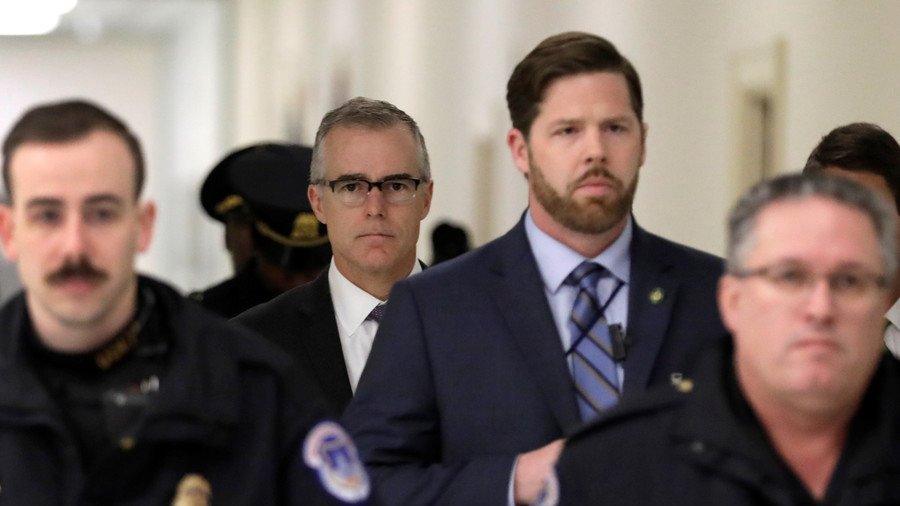 Andrew McCabe, the freshly-fired ex-FBI deputy director, reportedly kept track of his interactions with US President Donald Trump and handed over his notes to "Russia collusion" probe chief FBI Special Counsel Robert Mueller.
McCabe's alleged accounts of his personal meetings with Trump are believed to be similar in nature to what former FBI Director James Comey admitted to leaking to the media through a friend last May. Comey's notes prompted the start of Robert Mueller's investigation into the "Trump-Russia" collusion that Trump's opponents are pinning their impeachment hopes on.
CNN, citing a person with the knowledge of the matter, reported that McCabe not only submitted his notes to the office of the special counsel, but he has already been interviewed by Mueller's team. It's not clear when the interview took place, however.
Axios reported that the focus of McCabe's reported interview with Mueller was Comey's firing. The notes he turned over purport to corroborate the former FBI head's leaked memos.
While the exact contents of McCabe's memos have not been revealed, AP reported that they might provide evidence to support McCabe's claims that he fell victim to the "administration's ongoing war on the FBI and the efforts of the special counsel investigation."
In his own memo, Comey claimed Trump had urged him to drop the probe into former National Security Adviser Michael Flynn, who was fired for providing an incomplete account of his contacts with former Russian Ambassador to US Sergey Kislyak to Vice President Mike Pence. Trump, Comey wrote, told him to "let go" of the investigation, a claim that he later repeated during his testimony before the Senate Intelligence Committee in June. Comey also alleged that Trump complained to him about the "cloud" of the Russia probe that hangs over his presidency and asked him for his thoughts on what could be done to possibly "lift" it.
Following the revelations, Mueller opened an investigation into possible obstruction of justice by Trump. If found guilty of a criminal misconduct, the US leader could potentially face impeachment proceedings, which could only be launched by Congress.
Trump has repeatedly denied the allegations and, in particular, that he asked Comey to terminate the investigation into Flynn, citing "false statements" and "lies."
"I didn't say that...There would be nothing wrong if I did say that…but I didn't say that," Trump said in June, adding that he is ready to testify under oath about his conduct at that time. Trump, who is waging a war against leaks from inside of his administration, lashed out at Comey for self-admittedly leaking what his lawyer described as "privileged communications" with the president. In November, he called Comey a proven "liar and a leaker."
McCabe's ouster, which came just two days before he was set to retire and collect an estimated $60,000 a year pension, reignited the public row between Trump and Comey. Calling McCabe's firing "a great day for democracy," Trump taunted "sanctimonious" Comey on Twitter, saying he "made McCabe look like a choirboy."
That prompted Comey, who is set to release his memoir, 'A Higher Loyalty,' next month, to hit back at Trump, threatening to release more damaging info in the book.
"Mr. President, the American people will hear my story very soon. And they can judge for themselves who is honorable and who is not," Comey wrote.
You can share this story on social media: