Trump presses Sessions to probe Obama on 'Russian meddling'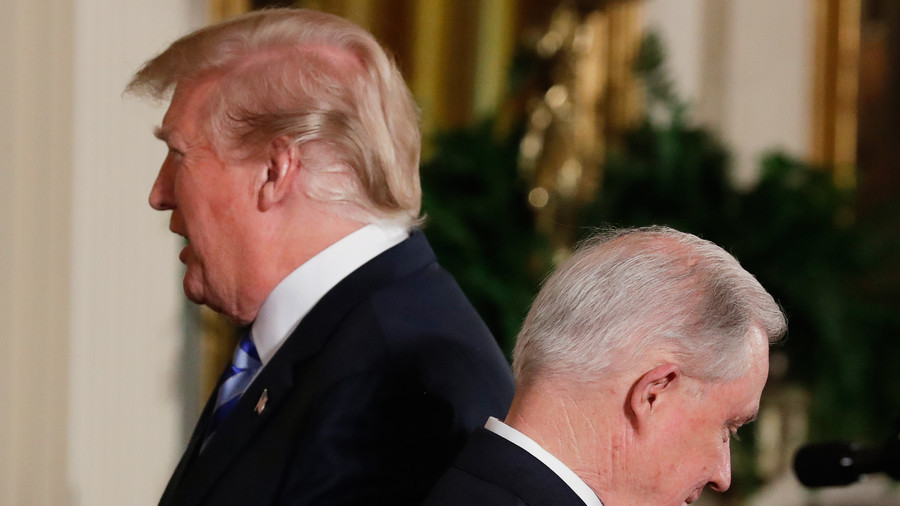 President Donald Trump has urged his attorney-general to probe why Barack Obama failed to stop alleged Russian election meddling on his watch. That followed a string of Trump tweets accusing his predecessor of inaction.
Ever since Hillary Clinton lost the 2016 vote, Democrats have accused Russia of influencing the election and colluding with Trump to defeat their candidate, widely considered to be an absolute favorite to win the White House.
"If all of the Russian meddling took place during the Obama Administration... why aren't they the subject of the investigation?" Trump asked in an early morning tweet on Wednesday.
Over the previous two days, Trump had tweeted that he had been "much tougher on Russia than Obama," who initially dismissed the notion that a foreign country could influence a US election because "he thought Crooked Hillary was going to win and he didn't want to 'rock the boat'," according to Trump.
The Obama White House publicly made the claims against Moscow for the first time in October 2016, a month before Trump's election and three months ahead of his inauguration. The meddling charge originated with the Hillary Clinton campaign earlier that year, as WikiLeaks published emails from the Democratic National Committee and the private account of her campaign chair, John Podesta.
Meanwhile, Trump has berated the man he nominated to head the Justice Department for being "weak" on Hillary Clinton's evasion of charges over using her unsecure home server for classified government emails, and on her own alleged Russian links in the 2010 Uranium One sale.
Sessions announced on Tuesday that he had ordered the formation of a national cyber-security task force under the aegis of the Justice Department and including FBI agents.
"The internet has given us amazing new tools that help us work, communicate, and participate in our economy, but these tools can also be exploited by criminals, terrorists, and enemy governments," the attorney general said.
On Friday, Special Counsel Robert Mueller issued indictments against 13 Russian individuals and organizations for alleged attempts to influence the election through fake social media accounts.
Those charged engaged in "information warfare against the US, with the stated goal of spreading distrust towards the candidates and the political system in general," Deputy Attorney General Rod Rosenstein said, announcing the charges. They "posed as politically and socially active Americans, advocating for and against particular candidates," he said.
However, "there is no allegation in the indictment that it had any effect on the outcome of the election," Rosenstein admitted.
Think your friends would be interested? Share this story!
You can share this story on social media: