Fire and explosions rock Texas chemical plant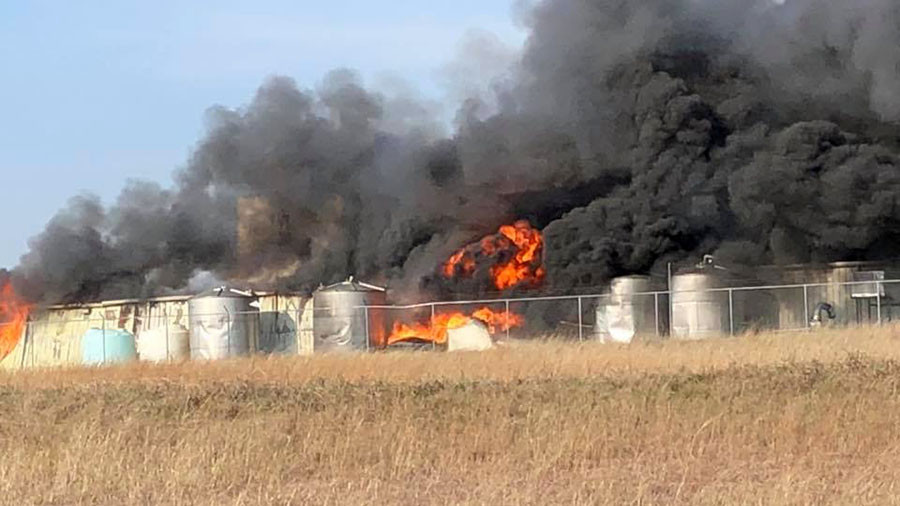 A blaze has erupted at a Texas chemical plant along with a series of powerful blasts. One person is missing following the incident and believed to be buried under the wreckage.
The fire at the Tri-Chem Industries Plant, which manufactures products like soap and acid, erupted at the building along with a series of violent explosions.
According to NBC Dallas-Fort Worth, a large fire was observed at the plant near Cresson at around 9:45 am local time. Cresson authorities have also reportedly told anyone who came into contact with the smoke that emanated from the fire to go to a hospital and get "checked out."
Footage of the fire obtained by NBC shows how a large metal structure collapsed at the plant, with large explosions erupting into the air, apparently from flammable material nearby. The Granbury Fire Department, a local volunteer force, warned people to avoid the area because of "possible chemical exposure."
Concerned about the substantial risk of further explosions, fire crews were ordered not to enter the building and are letting the fire burn itself out.
Two plant employees were injured in the fire. One was badly burned and had to be transported to Dallas, while his co-worker was taken to a local hospital. One person, identified as 27-year-old Dillon Mitchell, is still missing.
171 now reopen to traffic after a chemical plant explosion in Cresson at Tri-Chem Industries. One employee still missing. Lots of smoke still in the area and multiple fire trucks and firefighters @CBSDFWpic.twitter.com/uIVTLGXESM

— Jeff Paul (@Jeff_Journalist) March 15, 2018
The search and rescue mission for the man will resume no sooner than Friday, when the structure burns down and heavy equipment can be brought to the scene to clear rubble, Cresson Mayor Bob Cornett told AP. As of Thursday evening, the building was still burning and the scene was "too hot" for the search to continue. There is little chance that the man, who was believed to be inside the building, could be found alive, and officials are calling the search operation a "recovery" effort.
At least four ambulances responded to the blast. Local media also reports that the Fort Worth Fire Department sent 10 units to battle the blaze.
The cause of the fire is still under investigation.