Parkland shooting CCTV shows officer remained outside during massacre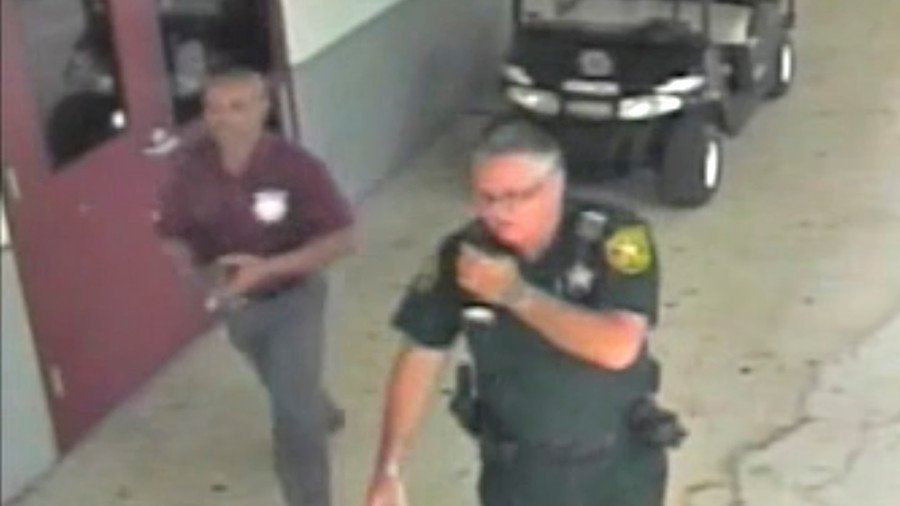 By order of a judge, the Broward County Sheriff's office has released surveillance video of the horrific Parkland school shooting in February. The police force said the footage justifies action against Deputy Scot Peterson.
The footage from four security cameras at Marjory Stoneman Douglas High School in Parkland shows Peterson, accompanied by a school security guard, waiting outside the school's building 1200 while 19-year-old gunman Nikolas Cruz rampaged inside and around the site. Seventeen students and staff were killed in the massacre.
Last week, a county judge ordered the clips to be released in the name of "strong public interest" after the Miami Herald, the South Florida Sun-Sentinel and other media brought a case against the sheriff, who had custody of footage. The outlets argued the public should "be given the first-hand opportunity to review and evaluate the video and the actions of its government officials."
The Broward State Attorney's Office and the school district had also opposed releasing the footage, but did not appeal the judge's ruling.
"The video speaks for itself. His actions were enough to warrant an internal affairs investigation, as requested by Sheriff Scott Israel on Feb. 21," the sheriff's office said in a statement accompanying the CCTV footage. "After being suspended without pay, Peterson chose to resign and immediately retired rather than face possible termination."
President Donald Trump has also slammed Peterson, who was assigned to the school, for failing to stop Cruz during his shooting spree. But he was mocked when he said: "I really believe I'd run in there even if I didn't have a weapon."
After his resignation, Peterson insisted that he followed his police training, and took a "tactical position" outside the building, as he believed Cruz was still somewhere outside. At the time, his lawyer said the video footage and an eyewitness would "exonerate him of any sub-par performance."
Peterson was not the only law enforcer accused of failing to prevent the massacre. Soon after the shooting, the FBI admitted it failed to follow standard protocols to investigate all of the tip-offs it had received about Cruz's suspicious behavior. Florida's Republican Governor Rick Scott then called on FBI Director Christopher Wray to resign.
Days later, the Broward County Sheriff's Office released a record of 23 calls to Cruz's home over the past decade that reveals a series of increasingly violent incidents involving the youth.

Think your friends would be interested? Share this story!
You can share this story on social media: