Be your own pilot: Google founder launches self-flying taxi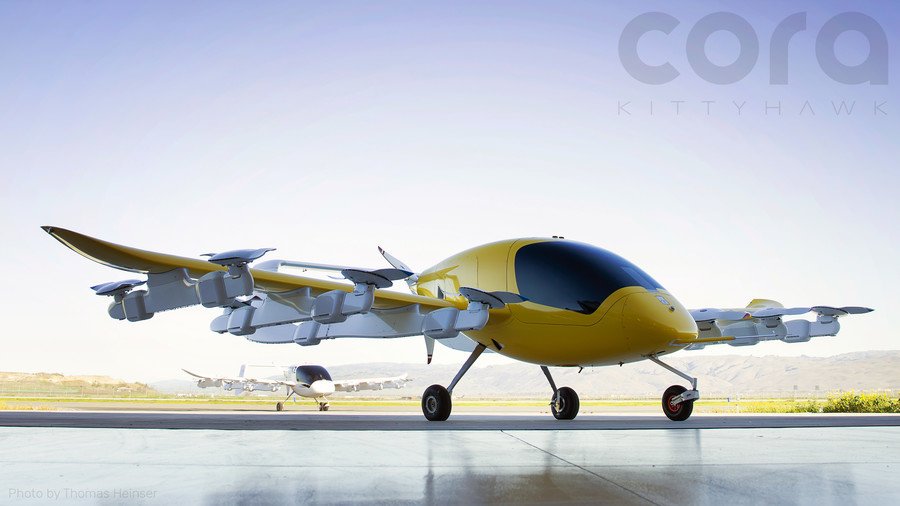 A new flying car has been unveiled by Google co-founder Larry Page's Kitty Hawk company. The makers hope it will usher in a new era of self-flying 'air taxis' that would work like Uber.
The vehicle, named 'Cora,' is an electric air taxi designed and built by Kitty Hawk, a California-based company. After eight years in development, the company released a video and a statement, launching the vehicle this week.
According to the statement, Cora "rises like a helicopter and flies like a plane," meaning it does not require a runway and can even take off from rooftops.
It uses self-flying software, so no pilot training is needed.
Kitty Hawk is working on an app that would allow customers to hail flying taxis like Uber. Kitty Hawk CEO Sebastian Thrun formerly headed up the development of Google X's self-driving car technology.
According to Kitty Hawk, the Cora has a range of about 60 miles (100 kilometers) on one charge, can travel up to 110 mph (180 km/h) and has an operational altitude between 500 and 3,000 feet (150 to 910 meters).
But other companies are hot on their heels in the race to develop self-flying car technology. Ride-sharing giant Uber is also working on its own version of the air taxi, hoping to launch the Uber Air flying taxi in five to 10 years.
At any rate, Cora is not set to hurtle passengers across the sky anytime soon. "We are not putting timeframes around when Cora will be available for public flight," Kitty Hawk said.
As of October 2017, the vehicle has been developed in New Zealand and the company is currently seeking the regulatory approval required to roll it out further.
Like this story? Share it with a friend!
You can share this story on social media: