Troops on flying cars? Futuristic manned 'copter' tested by Russian arms producer (VIDEO)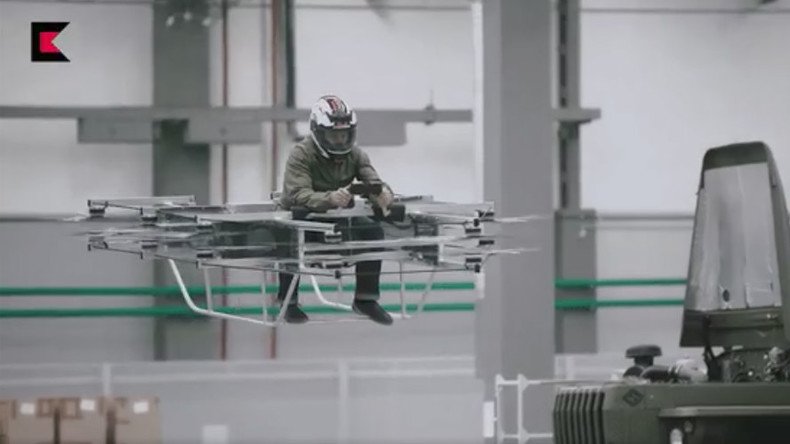 The Russian Kalashnikov arms manufacturer has brought the future a step closer after testing a working prototype of a manned 'flying car.' A video released by the company shows the machine being piloted by a person using only a joystick.
The video released on Monday shows a vehicle resembling a passenger helicopter. Whether the device will enter the ranks of the Russian military or be used for civilian purposes – or both – remains a mystery so far.
"Now the vehicle is being tested. Soon we will demonstrate the car in practice," the company's director of communications, Sofia Ivanova, told RIA Novosti. Apparently, the main function of the 'copter-mobile' is transportation.
Pilots of the vehicle will not need the sizable amount of equipment their colleagues use in airplanes – only a joystick, which helps easily change direction while hovering.
The 'flying car' features eight rotor blades powered by an accumulator. It is so far only capable of carrying one person.
READ MORE: Kalashnikov develops fully automated neural network-based combat module
Kalashnikov Group is one of the largest Russian arms producers, and manufactures assault and sniper rifles, guided artillery projectiles, and a wide range of precision weapons.
Apart from arms, the company says it is developing "remote weapon stations, unmanned aerial vehicles and multi-functional special-purpose boats."
You can share this story on social media: