Hillary Clinton slips twice on stone steps during India visit (VIDEO)
Former presidential candidate Hillary Clinton slipped twice while visiting India this week. Clinton was seen losing her footing as she made her way down stone steps assisted by two aides.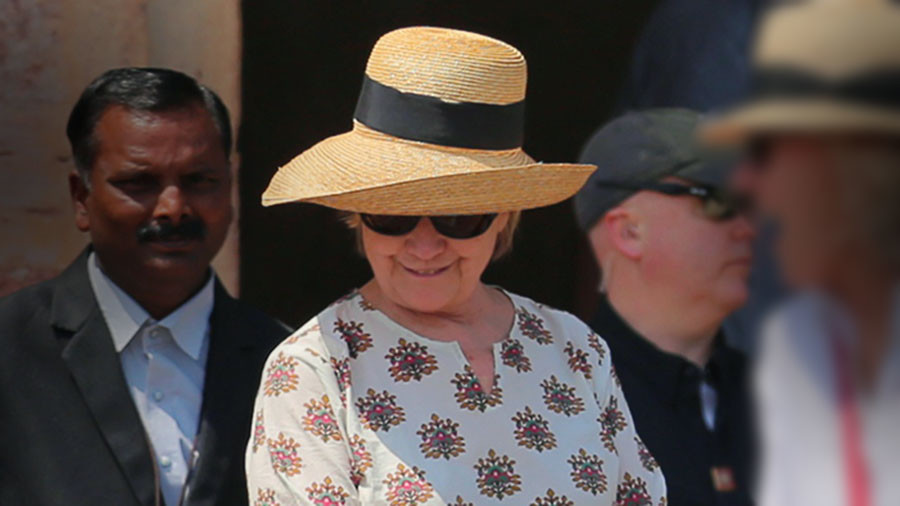 The former secretary of state's stumbles were caught on video on Monday. Clinton was seen slipping as she made her way down an ancient set of steps at the Jahaz Mahal palace in Mandu.
READ MORE: White women forced to vote Trump by husbands & sons - Clinton
Clinton was linking arms with a man on one side as she stumbled the first time. Another man quickly went to her aid, holding onto Clinton as she continued down the steps before she slipped again seconds later. She then took off her sandals and continued down the steps without further incident.
Clinton's health became a source of speculation during the 2016 campaign after she was filmed appearing to collapse while getting into a car at a 9/11 memorial event in Manhattan. The footage caused some to question her ability to continue campaigning, while others claimed its release was intended to undermine her candidacy.
Clinton suffered concussion and developed a blood clot in her brain in 2013 when she fell in her home. Doctors said the incident did not cause any strokes or neurological damage. However, that injury has fuelled speculation that the effects of the fall continue to affect her health.
If you like this story, share it with a friend!
You can share this story on social media: