White women forced to vote Trump by husbands & sons – Clinton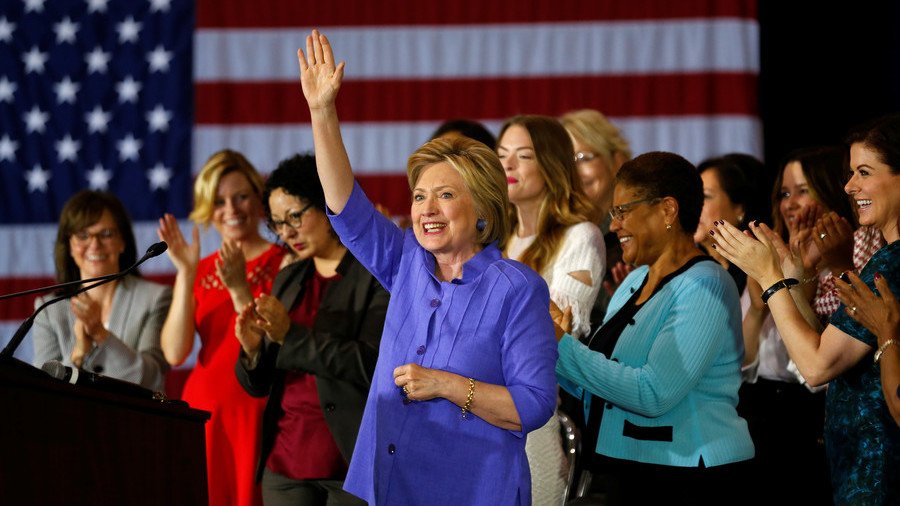 Hillary Clinton's excuses for losing the election to Donald Trump keep coming. The former Democratic candidate has now claimed women voters were pressured to vote for Trump by their husbands, sons and bosses.
Clinton was speaking at an event in Mumbai, India when she made the latest excuse as to why she lost the presidency to a reality star host and alleged sexual harasser. The woman who sought to smash the ultimate glass ceiling has now chalked up her loss to married white women voting for Trump because the men in their lives told them to.
Asked by India Today Editor Aroon Purie why she thinks over 50 percent of white women voted for Trump, Clinton said: "We don't do well with white men and we don't do well with married, white women. Part of that is an identification with the Republican Party and a sort of ongoing pressure to vote the way that your husband, your boss, your son, whoever, believes you should."
Clinton paints a picture in which many white American women wanted to vote for her, but were pressured not to. This ignores the many other factors which lost Clinton the white female vote, including the Democratic Party's failure to appeal to those most affected by the recession, her campaign's lack of message and its reliance on data over campaigning. This is not to mention a lack of trust in Clinton as a result of her use of a private email server.
FiveThiryEight's Clare Malone explained days after the election, "Clinton's stunning loss Tuesday night showed that issues of culture and class mattered more to many American women than their gender."
This isn't the first time Clinton has diminished female voters to explain her campaign failures. Clinton said in the past that Sheryl Sandberg told her, "Women will have no empathy for you, because they will be under tremendous pressure — and I'm talking principally about white women — tremendous pressure from fathers and husbands and boyfriends and male employers not to vote for the girl."
Speaking to Vox in September, Clinton regaled "anecdotal evidence" of women being told not to vote for her after former FBI Director James Comey's announcement the FBI would again examine her emails weeks before the election.
"You know, all of a sudden the husband turns to the wife: 'I told you, she's going to be in jail, you don't want to waste your vote.' The boyfriend turns to the girlfriend and says, 'She's going to get locked up!' All of a sudden it becomes a very fraught kind of conflictual experience. And so instead of saying I'm taking a chance, I'm going to vote, it didn't work," Clinton said.
Like this story? Share it with a friend!
You can share this story on social media: