Twittersphere rushes to 'help' AP, which 'lost rights' to Clinton fainting video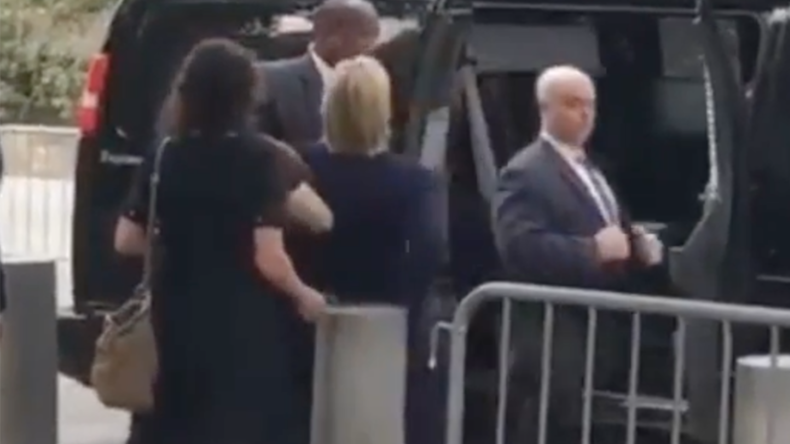 The AP deleted a tweet it had posted containing a video showing a wobbly Hillary Clinton stumbling after leaving a 9/11 memorial ceremony in New York early, citing distribution rights, but the Twitter folk just aren't buying it and are re-posting at will.
In one of its latest tweets, the Associated Press informed the online community that the video of US presidential candidate Hillary Clinton wobbling and stumbling while getting into her car will no longer be available "as [AP] no longer has distribution rights."
Apparently the AP failed to realize that the video had already been reposted and retweeted thousands of times mere minutes after being published (34,000 times, to be exact).
Twitter enthusiasts rushed to re-share the moment from AP, all the while coming up with their own versions of the news agency's explanation for removing the video…
Some news outlets that missed out on the original started asking for permission to use the reposted videos.
Whatever the reason for the video's removal, it sure did give Twitter something to tweet about.
READ MORE: Hillary Clinton diagnosed with pneumonia, cancels California campaign trip, 'Ellen' appearance
The "health episode" took place on Sunday morning, when Hillary Clinton appeared to stumble and nearly fall while getting into her car after abruptly exiting a 9/11 commemoration event. According to a statement from her campaign spokesperson, she suddenly felt "overheated" and needed to rest. Several hours later, Dr. Lisa Bardack, Clinton's personal doctor since 2001, released a statement through the Clinton campaign saying that the former secretary of state had been diagnosed with pneumonia two days earlier during a follow-up examination for her prolonged cough.