Musk promises 1st 'up-and-down flight' for SpaceX Mars rocket next year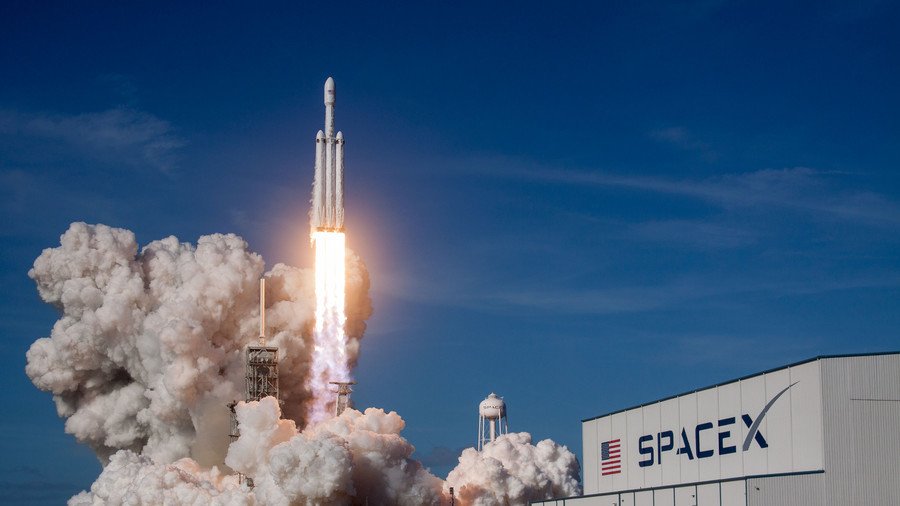 While admitting that his timelines often turn out to be way too "optimistic," SpaceX CEO Elon Musk has claimed his company will conduct the first test flight of its giant Mars rocket early next year.
"We are building the first ship, the first Mars or interplanetary ship, right now," Musk told the South by Southwest convention in Austin, Texas on Sunday. "I think we'll be able to do short flights, short up-and-down flights, sometime in the first half of next year," he told screenwriter and director Jonathan Nolan, brother of Christopher, onstage.
However, Musk admitted that "historically people have told me my timelines have been optimistic." The only publicized evidence to date of progress on the SpaceX Mars rocket is concept art and a large, carbon-fiber fuel tank
The spacecraft, given the tongue-in-cheek working title of the "BFR," is set to be 3.5 times heavier than NASA's Saturn V Moon rocket. SpaceX announced the venture in 2017, with a stated target of sending its first payload mission to Mars in 2022.
Musk predicted that, if SpaceX achieves its goal of laying the groundwork for a future human colony on Mars, it will prompt a wave of other private enterprises entering the space race. "Once we have it, we'll have a sort-of point of proof, something that other countries and companies will go and do," he said.
Jumping ahead, Musk said others like him would flock to a Martian colony in an "explosion of entrepreneurial opportunity" to build everything from "iron foundries to pizza joints to nightclubs." He also predicted a utopian social model for the red planet, akin to the ancient Greek republics, without the slavery. "Most likely, the form of government on Mars would be somewhat of a direct democracy," he said, with settlers having a direct vote on individual issues.
The entrepreneur said it was only by luck that SpaceX and his electric car venture Tesla were still in business, the BBC reported. "SpaceX is alive by the skin of its teeth, and so is Tesla - if things had just gone a little differently, both companies would be dead," he said.
SpaceX ran into trouble in 2008 when its Falcon 1 rocket failed to launch, and Tesla, named after 19th-century Serbian-American scientist Nikola Tesla, narrowly avoided bankruptcy just before Christmas that year. The new SpaceX Falcon heavy rocket has also suffered delays before its maiden flight on February 6 this year, which, in a cosmic gimmick, launched a Tesla Roadster convertible car towards Mars.
Think your friends would be interested? Share this story!
You can share this story on social media: