SpaceX heavy rocket takes Tesla car into orbit in test blast-off (VIDEO)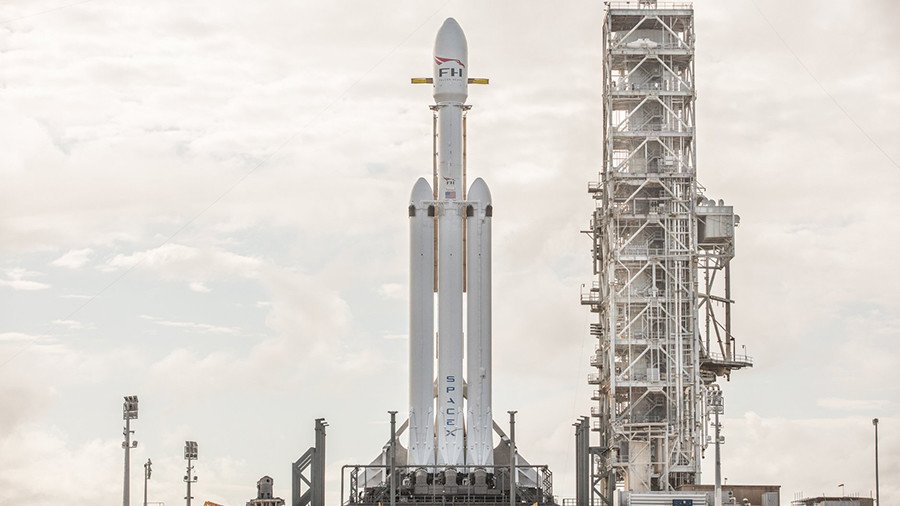 SpaceX's new Falcon Heavy space rocket has launched on its maiden flight. The rocket departed from Launch Pad 39A at NASA's Kennedy Space Center in Florida, carrying a Tesla car into orbit.
The launch was delayed twice due to heavy winds in the upper atmosphere, but the countdown finally began for a 3:45pm EST (2045 GMT) blastoff on Tuesday.
The rocket is the brainchild of billionaire SpaceX founder Elon Musk and contains Musk's old midnight-cherry Tesla Roadster, complete with a dummy passenger called Starman. In a typical Musk flourish, the car will be blasting out David Bowie's "Space Oddity" as it leaves the atmosphere.
If the demonstration launch is a success, Falcon Heavy will be the world's most powerful serviceable rocket.
"It's the biggest rocket in the world by far," Musk told CNN on Monday. He had announced plans to develop the rocket in 2011.
If the rocket makes it into orbit, SpaceX will attempt to land the two side boosters at Landing Zones One and Two on land at Cape Canaveral Air Force Station. These landings should occur at seven minutes and 58 seconds after launch.
The third central core of the rocket will stay attached to the Tesla payload car onboard before separating. If successful, this core will land on the "Of Course I Still Love You" landing drone ship eight minutes and 19 seconds into the flight.
The rocket's second stage will attempt to place the car into an Earth-Mars elliptical orbit around the Sun.
Ideally it will "get about 400 million km away from Earth, and it'll be doing 11km/s," Musk told reporters in a briefing on Monday. "We estimate it will be in that orbit for several hundred million years, maybe in excess of a billion years."
The Falcon Heavy is a larger, more powerful version of the SpaceX Falcon 9 rocket and comprises three Falcon 9 cores strapped together.
Despite Musk saying that it is "the biggest rocket in the world," its maximum payload is far from the capabilities of rockets made in the 1960s. For example, NASA's Saturn V, which was used to launch the first and only American space station (no longer operational), could take a record 140,000kg payload into low-Earth orbit (LEO). The Soviet-made Energia rocket, first developed in the 1980s, had the capacity to place about 100,000kg in LEO.
Falcon 9s have previously returned to Earth, either on land or on robotic drone ships, a total of 21 times so far.
Musk posted the rocket's projected flight path on Twitter on Tuesday.
Like this story? Share it with a friend!
You can share this story on social media: