Highway havoc: 100-vehicle pile-up sparks carnage in icy Missouri (VIDEO)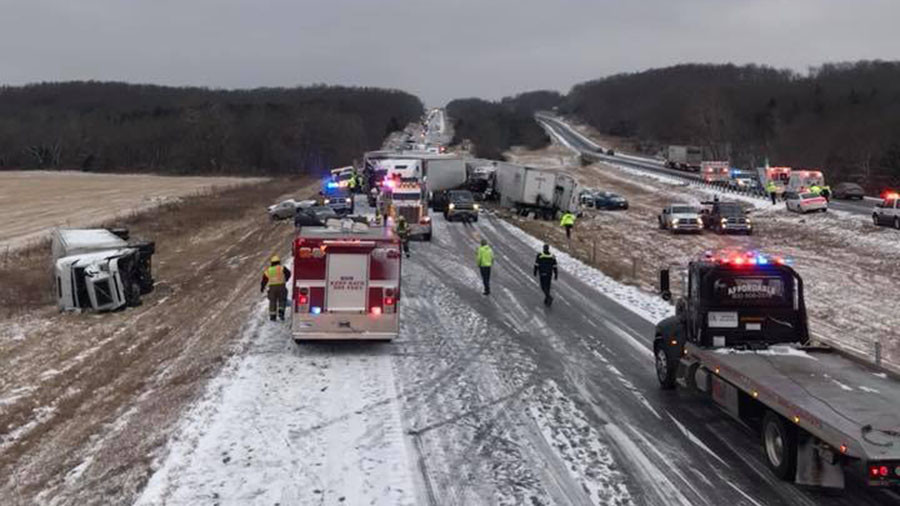 The aftermath of a deadly pile-up involving 100 cars and trucks along a stretch of Missouri highway has been captured by drone. Footage of the scene shows the horrifying scale of the multi-vehicle smash.
One person was killed and at least 11 others injured when treacherous icy road conditions caused several accidents on Interstate-44 on Sunday, roughly 100 miles (60km) southwest of St Louis.
READ MORE: Super Bowl mayhem: Philadelphia frenzy of looting, shooting and torn up light poles (VIDEO)
Aerial footage released by Conway Volunteer Fire Department shows scores of vehicles, including trucks, lined up on the snow-covered highway as emergency services attend the scene.
Authorities estimate that up to 100 vehicles were involved in a series of smashes at the 106-mile marker in Marshfield. More crashes were reported at different markers in the eastbound lanes along the highway. The chain reaction of incidents caused stretches of the road to be shut down for hours.
Missouri transportation officials re-opened all portions of the Interstate by around 7am local time Monday. The Missouri Highway Patrol said that as of Sunday evening it had responded to 131 crashes and incidents of vehicles slipping right off the road.
Think your friends would be interested? Share this story!
You can share this story on social media: