'Freezing to death a horrible way to die': Ohio sheriff warns pet owners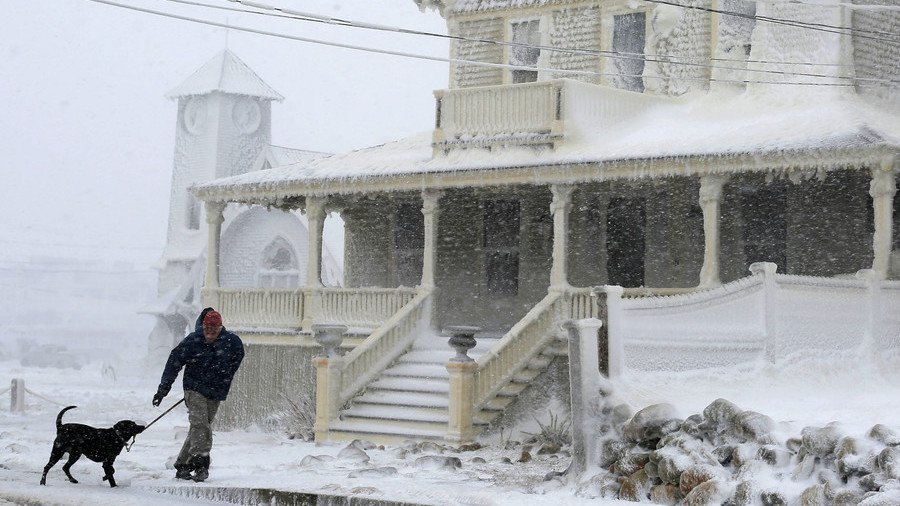 Animal owners have been warned to keep their pets warm this winter, or face criminal charges. The threat comes from Ohio officials after a dog was found frozen to death in Butler county during "severe cold weather."
Butler County Sheriff Richard Jones shared a warning to negligent pet owners on Facebook Wednesday after a dog warden made a welfare check at a residence, only to find the pup frozen to death in an outside dog house with no insulation.
READ MORE: Iggy popsicle: Freezing iguanas fall from trees in Florida (PHOTOS)
"The dog was frozen to death due to the severe cold weather," read the statement, before adding that "the Butler County Dog Warden provides straw at no cost for bedding for animals in outdoor kennels".
"Sheriff Jones would like to remind everyone that freezing to death is a horrible way for an animal to die," the statement continued, urging families unable to care for their pets in extreme temperatures to contact the sheriff's office for help.
READ MORE: 'Bomb cyclone' hits Boston: Severe flooding, 20k without power across Massachusetts (VIDEO, PHOTOS)
"Mistreatment of animals is NEVER acceptable. The owners of the dog will be charged with Cruelty to a Companion Animal," Jones concluded.
The eastern United States is in the midst of a record-shattering freeze, with some areas experiencing severe blizzard conditions. The northeast is being hit particularly hard and a so-called "bomb cyclone" touched down on Thursday as conditions worsened.
The American Society for the Prevention of Cruelty to Animals (ASPCA) warned animal owners to take proper precautions with their pets during colder months by making sure your pup has as an insulated and waterproof doghouse, and is never left outside during a "snowstorm or inclement weather including sleet, ice, snow, wind, or extreme cold."
You can share this story on social media: