SpaceX plans audacious triple landing after launching 'world's most powerful rocket'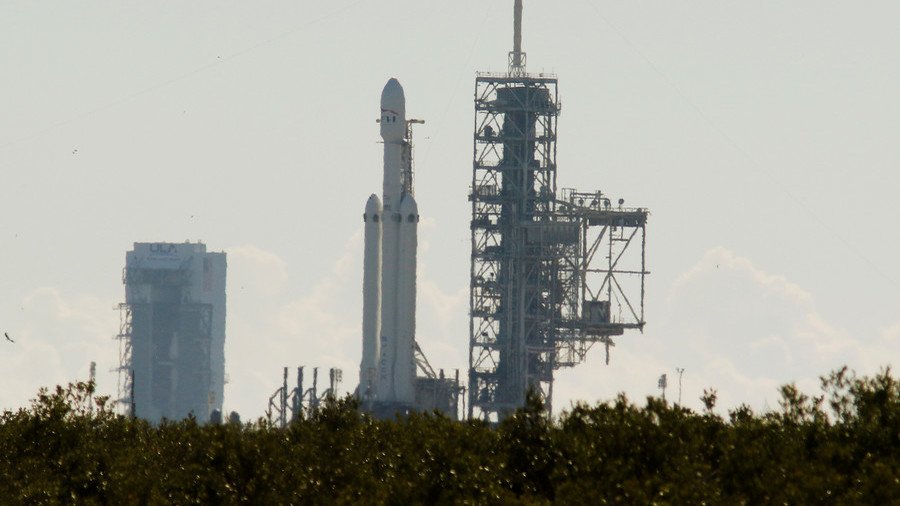 SpaceX is all set to launch its most powerful rocket to date in the form of the Falcon Heavy – and not only that, it's planning a high-stakes triple landing for the core components.
Falcon Heavy essentially looks like three SpaceX Falcon 9 rockets strapped together. When it launches on Tuesday, Elon Musk's brainchild project will attempt to land all three of Heavy's first stage core boosters – at the same time.
READ MORE: Elon Musk's epic montage of explosive SpaceX fails (VIDEO)
"Following booster separation, Falcon Heavy's two side cores will return to land at SpaceX's Landing Zones 1 and 2 (LZ-1 & LZ-2) at Cape Canaveral Air Force Station, Florida," SpaceX confirmed, as cited by Business Wire.
"Falcon Heavy's center core will attempt to land on the 'Of Course I Still Love You' droneship, which will be stationed in the Atlantic Ocean," the company added. SpaceX has some form in landing the Falcon 9 rockets.
Falcon 9s have safely returned to Earth, either touching down on land or on robotic drone ships, a total of 21 times so far. As part of it's reusable rocket remit, SpaceX has reflown boosters six times.
Falcon Heavy remains go for launch at 1:30pm on Tuesday

— Elon Musk (@elonmusk) February 5, 2018
Falcon Heavy's inaugural flight will go a step further if all three components manage a safe return. The massive rocket, billed by the company as "the most powerful operational rocket in the world by a factor of two," can lift a payload of nearly 64 metric tons (141,000 lb) – more than a fully laden 737 aircraft – into space.
For this test mission, the payload will be both lighter and less typical than your average space launch. A red Tesla Roadster, complete with a dummy passenger called Starman, is acting as unconventional ballast on board and is all set to be shot into space.
Here's hoping he makes it, though there's always a chance it could end in a ball of flames just like some of his previous SpaceX missions.
You can share this story on social media: