Miami nightclub shut down for shocking horse stunt (VIDEO)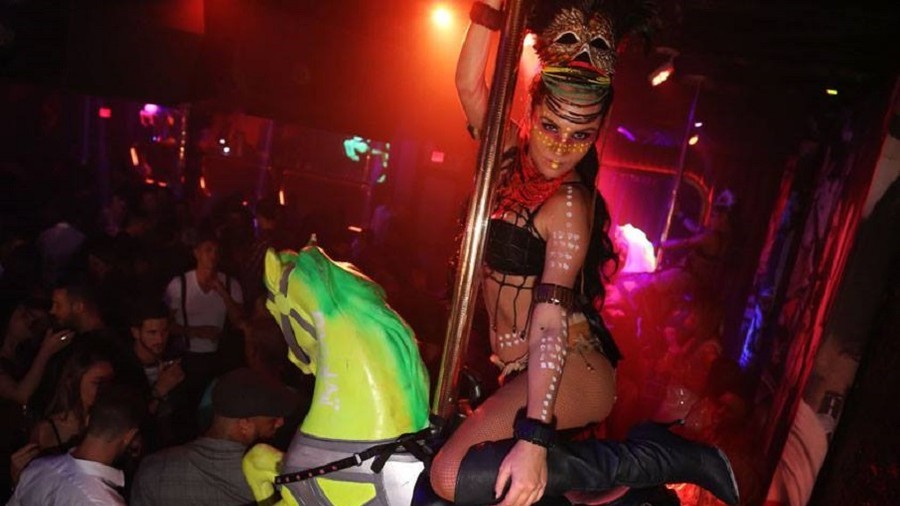 A Miami nightclub has had its business license revoked after footage surfaced showing a woman riding a horse onto a crowded dance floor. The lingerie-clad woman is seen being bucked from the clearly distressed horse.
The Mokai Lounge nightclub had its license revoked by Miami Beach City Manager Jimmy Morales, after it was determined the Wednesday incident was an "actual threat to the public health, welfare and safety" of the city and amounted to animal cruelty. "I was disgusted and offended that any legitimate businessperson would think this was an appropriate action to take," Morales said in a statement.
Last night MBPD was made aware of this incident at Mokai. We are very concerned over the allegations. As such, we have launched a joint investigation with @MiamiBeachNews Code Enforcement. https://t.co/WsSaMqrHhh

— Miami Beach Police (@MiamiBeachPD) March 9, 2018
The video shows a large white horse entering the middle of the nightclub with a woman riding bareback. The horse appears to slip and fall on the crowded dance floor, causing the animal to panic and begin bucking the woman off its back.
READ MORE: 'Animal abuse': Horse brought into Miami nightclub throws off bikini-clad rider (VIDEO)
In the footage several bystanders start to scream as the horse grows more agitated, causing a potentially dangerous situation for the surrounding crowd. The horse eventually calms down and is awarded one last resounding and frightening cheer from the crowd as it's led off.
"Animal cruelty is an abhorrent and vile act," Miami Beach Mayor Dan Gelber said. "I fully support the immediate actions taken by the City Manager and his staff to ensure that this is remedied quickly."
Miami Beach police said they had located and inspected the horse, which was found to be "healthy and safe."
It's possible the nightclub was attempting to reenact the equally controversial moment Bianca Jagger rode a white horse inside Studio 54 in 1977. She has since claimed that she "did not ride the horse into Studio 54" she just "got on it" while it was inside the club.
The license revocation is permanent, according to city spokesperson Tonya Daniels, although the club has appealed the ruling, reports Miami News. Mokai has yet to publicly respond to the debacle and has disabled commenting on its social media platforms after they were bombarded with complaints from animal rights activists.
You can share this story on social media: