'Animal abuse': Horse brought into Miami nightclub throws off bikini-clad rider (VIDEO)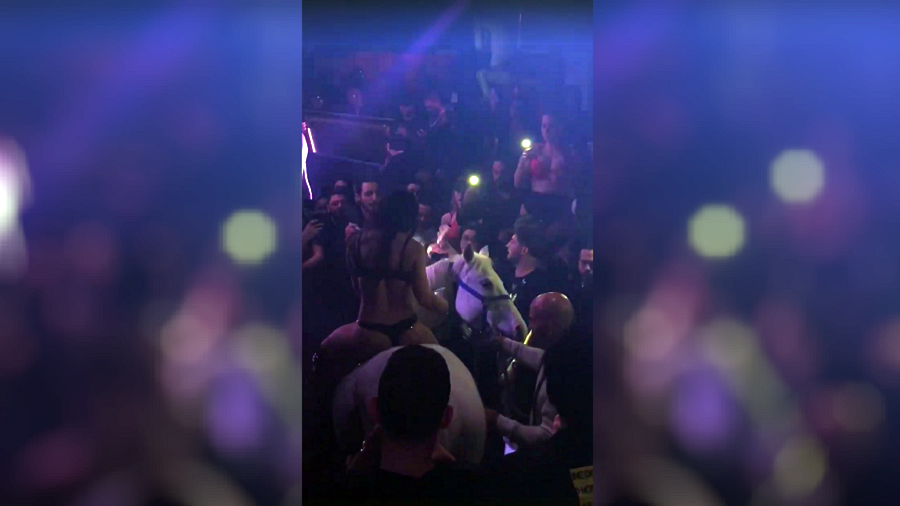 Miami is known for its party atmosphere, but one nightclub's patrons were shocked when a horse was brought inside, bucking and throwing off the bikini-clad rider. The incident has sparked outrage online.
It's likely that some clubgoers at Mokai Lounge in South Beach thought they were hallucinating when a horse entered the bar on Thursday. However, the incident was all too real.
Footage posted online shows a woman in a black bikini on the horse in the extremely crowded nightclub. The horse suddenly falls the ground before bucking and throwing the woman off. People can be heard screaming when the incident happens. The screams eventually turn to cheers, which appear to be directed at the horse.
The video was posted by Miami Beach activist Michael DeFilippi, who encouraged people to share the "shocking footage." He said the incident constitutes animal abuse, and that the club "should be stripped of their license to operate."
Facebook user Leeza Marie Juelle helped spread the video.
"Last night I noticed a bunch of pictures & videos posted of a horse in a Miami nightclub and it made my stomach sick," she wrote, sharing the footage. "This is inhumane and deserves serious attention ASAP."
DeFilippi and Juelle weren't the only ones left angry by the incident. A Change.org petition calls for action to be taken against the club has so far been signed by almost 700 people.
"The question remains as to WHY a horse was let into the doors of Mokai in the first place, but the answer remains the same, ACTION MUST BE TAKEN for letting this happen," the petition says.
Others expressed their anger in the comments section of DeFilippi's video. Facebook user Castiana Johnson called the move "beyond irresponsible," adding that the incident shows "clear animal abuse and cruelty." She noted that the distressed horse would have likely been put down – through no fault of its own – if it had kicked someone and injured them.
Another Facebook user, by the name of Ceci Be, wrote that "owners and all those present at that moment are responsible for animal cruelty. Unacceptable!"
Last night MBPD was made aware of this incident at Mokai. We are very concerned over the allegations. As such, we have launched a joint investigation with @MiamiBeachNews Code Enforcement. https://t.co/WsSaMqrHhh

— Miami Beach Police (@MiamiBeachPD) March 9, 2018
Meanwhile, Miami Beach Police tweeted that it has been "made aware" of the incident. "We are very concerned over the allegations. As such, we have launched a joint investigation with [City of Miami Beach] Code Enforcement," the police wrote.
"We're looking at it from a city perspective in terms of licensing," Miami Beach Police Officer Ernesto Rodriguez said, according to local news outlet WSVN-TV. "We're looking at it from a police perspective in terms of animal cruelty. Whatever it is that we can find to charge appropriately is what'll happen in this investigation."
As weird as the incident is, it's not the first time that a horse has been an attraction at a US nightclub. In May 1977, Bianca Jagger, the ex-wife of Rolling Stones lead singer Mick Jagger, rode a horse inside Studio 54 in New York City.
In 2015, she defended her action in a letter to the Financial Times.
"I made the foolish decision to get on it for a few minutes...no doubt you will agree with me that it is one thing to, on the spur of the moment, to get on a horse in a nightclub, but it is quite another to ride in on one...I hope you can understand the difference between 'coming in' on a horse and getting on one," Jagger wrote.
Like this story? Share it with a friend!