Outcry as Trump links violence to video games, shows reel with gaming massacre at Moscow airport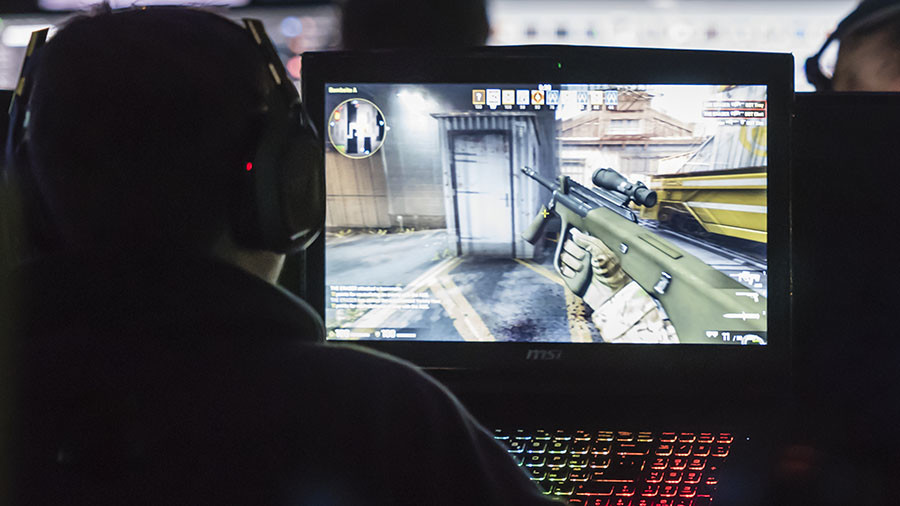 President Trump highlighted extreme violence in video games with the help of a stomach-churning compilation including a video game massacre in a Moscow airport. Critics lashed out at the suggestion that gaming causes violence.
Featuring gore-filled clips from popular titles such as Call of Duty: Modern Warfare 2; Wolfenstein; Dead by Daylight; Sniper Elite; and Fallout 4, the video montage was reportedly shown during a White House roundtable discussion attended by representatives from the video game industry, lawmakers, and video game critics.
According to the Washington Post, after playing the video for the roundtable attendees, President Trump asked the group: "This is violent, isn't it?"

WARNING: GRAPHIC SCENES
The compilation includes controversial gameplay from Modern Warfare 2, in which the player, taking on the role of an undercover CIA agent, participates in a mass shooting at a Moscow airport. The disturbing sequence was the subject of intense controversy in Russia. Modern Warfare's developer, Activision, ultimately decided to remove the level entirely from the Russian version of the game. However, the game once again made headlines in Russia a year after its release, following a suicide bomb attack that killed 37 and left some 180 injured at Moscow's Domodedovo International Airport in 2011. In the wake of the attack, media critic Danny Schechter said that the controversial game showed how "entertainment mirrors reality and reality mirrors entertainment."
The video compilation and subsequent roundtable discussion were billed as part of the Trump administration's response to the recent mass shooting at a high school in Parkland, Florida, which left 17 students and staff dead. Trump pointed the finger at violent video games shortly after the tragedy, remarking: "I'm hearing more and more people say the level of violence on video games is really shaping young people's thoughts."
Published as unlisted on the White House's official YouTube channel on Thursday, the video quickly went viral – although perhaps for the wrong reasons. The video currently has fewer than 2,000 "likes," compared with 58,000 "dislikes."
"The only violence I see here is to the like/dislike bar," observed a cheeky YouTube commenter, while another claimed that "This is completely biased, and anyone who has researched the topic for even five minutes knows that video games do not cause violence."
Trump's apparent belief that violent video games have a corrupting influence on America's youth was not well received by representatives from the gaming industry who attended the meeting. In a statement issued to the press following the roundtable the Electronic Software Association, a trade group that represents game publishers, said that while they appreciated Trump's "receptive and comprehensive approach to this discussion," they found the president's arguments unconvincing. The statement pointed to "numerous scientific studies establishing that there is no connection between video games and violence."
The organization has a page on its website which specifically addresses concerns about violence in video games. "Violent crime, particularly among the young, has decreased dramatically since the early 1990s," the ESA's website reads. "During the same period of time, video games have steadily increased in popularity and use, exactly the opposite of what one would expect if there were a causal link."
The argument is not watertight, as other studies have suggested that there is in fact a link between violence in video games and antisocial behavior. In 2012, Researchers from Ohio State University found that "people who played a violent video game for three consecutive days showed increases in aggressive behavior and hostile expectations each day they played."
There are also some real world examples of the potential harm caused by violent video games. Norwegian mass murderer Anders Breivik and Sandy Hook gunman Adam Lanza were both known to be avid players of Call of Duty. Breivik, who recently claimed that the "outdated" Playstation 2 in his prison cell is a violation of his human rights, previously discussed how he "trained" for his attack that killed 77 people in July 2011 by playing the game.
Like this story? Share it with a friend!
You can share this story on social media: