Human 'Call of Duty' video shocks internet with its stark realism (VIDEO)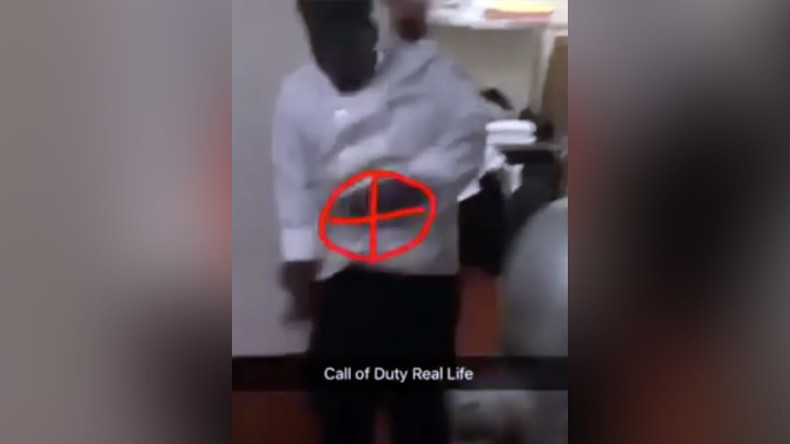 If you've ever wondered what the violent video game Call of Duty would be like if the pixels getting shot were actual people, a startling new re-creation is blowing up on the internet.
While the graphics harken back to the days before Commodore 64, the sound effects - and sobering realism - are spot on.
Five different scenarios are played out with brilliant precision, including the use of a silencer for close range killing and also the use of semtex, complete with a mini fireball.
The footage hits a little too close to home for some, resembling body cam video of police brutality.
The top-notch acting peaks with an overly dramatic slow motion dive onto a counter-top by the man being "gunned down" from behind.
The only 'production notes' we know is that it was recorded in a kitchen and posted by Philadelphia rap artist Arax.
A team with more time on their hands, and better equipment, created a parody of the controversial game five years ago, complete with some of the bugs often cited by the game's fans.
Call of Duty, and games like it, have often been criticized for the level of violence and knock-on effects it has on those who play them.
Researchers from Ohio State University found those who play such violent games show an increase in "aggressive behavior and hostile expectations" each day they played.
Norwegian mass murderer Anders Breivik and Sandy Hook gunman Adam Lanza were both known to be avid players of Call of Duty.
Breivik, who recently claimed that the "outdated" Playstation 2 in his prison cell is a violation of his human rights, previously discussed how he "trained" for his attack that killed 77 people in July 2011 by playing the game.
READ MORE: Breivik gives Nazi salute in court while suing Norway for violating his human rights
Just seen white kid in mall buying call of duty: Adam Lanza's favorite game. Going in closer to monitor. #ZimmermanTipLine

— Black Zimmerman (@BlackZimmerman) July 17, 2013
#KellyFile Adam Lanza binge played CALL OF DUTY for ten of hours, 4901 matches, 88K kills with 22K heads shots but it's the #NRA fault?

— Liberate Illinois (@liberateIL) January 8, 2016
Homophobia can be another side effect. The YouTube video "Call of Duty: Modern Warfare 2 - Fight Against Grenade Spam", the subtitle of which spells out the acronym F.A.G.S, features the voice of major league baseball pitcher Cole Hamels talking about how random grenade attacks are "for p*ssies."
Pwned: Cole Hamels' Call Of Duty 2 Spot Pulled By Game Company Because, Oh Wow, It's Homophobic (And Also Retar... http://bit.ly/2mjpUP

— Philebrity (@philebrity) November 17, 2009
You can share this story on social media: