FBI unveils 'violent extremism' video game to educate teenagers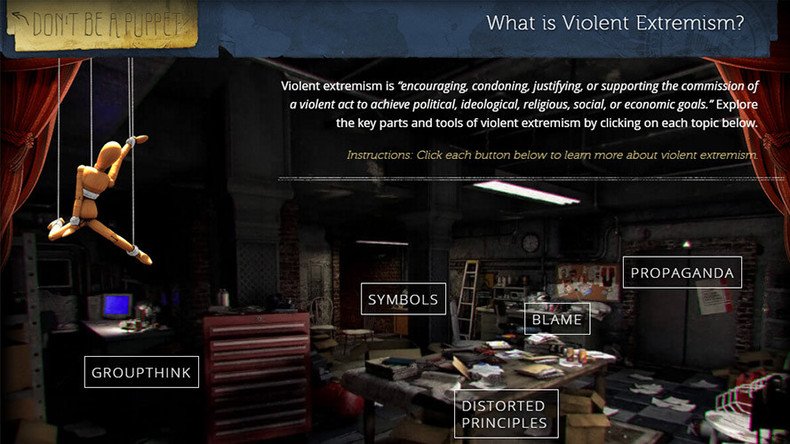 Months in the making, the FBI has released a low-grade, browser-based online game to try and educate teenagers about the tools used by "violent extremists" for recruitment purposes.
The FBI's interactive website, called "Don't Be a Puppet: Pull Back the Curtain on Violent Extremism," leads a viewer through a series of games and tips in order to teach what methods a radical group might use to recruit them. With each successful answer, scissors cut a puppet's string until the puppet is free.
Teens can earn an FBI certificate by completing all of the activities.
After all the tips and multiple choice games, there is a free video game called "The Slippery Slope to Violent Extremism."
Ars Technica reported that "it basically looks like a prequel to the world's first-ever video game." In the FBI's game, players move a running goat left and right using computer keys to avoid hitting blocks, which are supposed to represent violent extremists.
If the goat hits a block, it explodes. There are six levels for the goat to travel. Each level is marked by a finishing line which flashes a distorted logic text featuring purported extremist phrases that would be right at home in George Orwell's 1984, such as "We must defend our traditions," "The enemy is responsible for this injustice," and "Our violent actions will result in a better future."
In announcing the release of the game last Monday, the FBI said that across America there are "young people who are embracing various forms of violent extremism, actively communicating with violent extremists, and helping with recruitment." The agency also said teens are "joining violent extremist groups in the US or leaving their families and traveling to war zones…some are plotting and launching attacks in the US and overseas."
Back in July, The Hill reported the head of the FBI told Senate lawmakers that more than 200 Americans had tried to join Islamic extremists in Iraq and Syria, but the agency admitted those figures were low compared to the several thousand recruited in from other Western nations and the Middle East.
"Whether or not the individuals are affiliated with a foreign terrorist organization and are willing to travel abroad to fight or are inspired by the call to arms to act in their communities, they potentially pose a significant threat to the safety of the United States and US persons," FBI Director James Comey said in written testimony given during a Senate Intelligence Committee hearing.
The education tool, the agency said, is designed to teach young people what violent extremism is and how it hurts innocent people, and to create awareness about the deceptive power of recruiting tools employed by extreme groups.
The site's five sections try to explain the following: "What is Violent Extremism, Why Do People Become Violent Extremists? What are Known Violent Extremist Groups? How Do Violent Extremists Make Contact? And Who Do Violent Extremists Affect?"
Under "What are Known Violent Extremist Groups," the FBI lists international groups like the Islamic State, Al-Qaeda, Hezbollah and FARC. Domestically, the agency lists abortion extremists, white supremacists, and environmental and animal rights extremists, among others.
The inclusion of white supremacists and environmental extremists likely came about after the site – which was due to be launched in November – was given an early preview by Muslim, Arab and other religious leaders, who argued that it focused almost exclusively on Islamic extremism.
Under the section "How do Violent Extremists Make Contact," teenagers are asked to identify, through multiple choice, what kind of invitations are simply social and what kind are more nefarious.
"Click the imaginary post that is most likely a violent extremist looking for new recruits. The right answer will turn green when you select it," states the page.
The FBI's right answer for "extremist activity" is an imaginary post that asks, "anyone interested in joining me on a trip next month? I'm heading over to that awful animal testing lab – going to send them a 'powerful' message and shut them down once and for all!" An imaginary post reading "Rebecca Smith is attending a political rally" is considered social.
Included in the site is a video message from FBI Director Comey, who explains a further purpose behind the online education tool.
"At the FBI our job is to investigate crimes and to stop terrorists before they harm innocent people. Your job is to educate yourself, to think critically, and be aware of what's going on around you," he said.
The FBI is also planning other Youth Programs, including an Adopt-a-School/Junior Agent Program, which puts FBI special agents into local schools to mentor and tutor kids. The FBI said in the last fiscal year that more than 800 teens participated in these programs in 28 different FBI field offices.
You can share this story on social media: