No country-wide exceptions to US steel tariffs despite protests from allies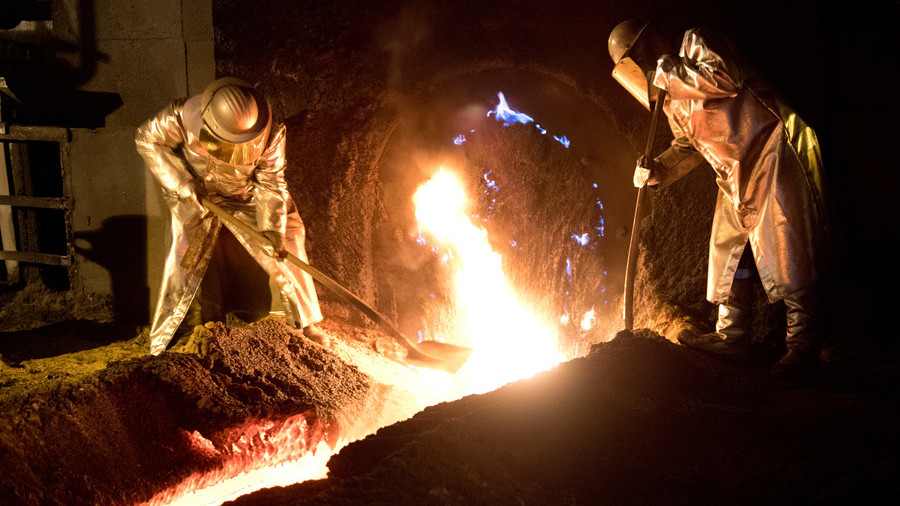 US trading partners are clamoring to be exempted from the looming US import taxes on steel and aluminum. Some US officials dismissed the notion, but others hinted that individual firms might be let off.
Last week, President Donald Trump announced the US would impose a 25 percent tariff on steel imports and 10 percent tariff on aluminum imports, claiming it would save jobs in the US and reduce a trade deficit, which he claimed was at $800 billion.
"I know he's had conversations with (a) number of the world leaders," US Commerce Secretary Wilbur Ross told ABC News on Sunday when asked if Trump would exempt fellow NAFTA free trade deal members Canada and Mexico. "The decision, obviously, is his. But as of the moment, as far as I know, he's talking about a fairly broad brush."
Australian Trade Minister Steve Ciobo was urgently seeking a call with Ross over the weekend, SBS News reported. British Prime Minister Theresa May called Trump to discuss the tariffs on Sunday.
"The Prime Minister raised our deep concern at the President's forthcoming announcement on steel and aluminum tariffs, noting that multilateral action was the only way to resolve the problem of global overcapacity in all parties' interests," Downing Street said.
South Korean business leaders said they asked 565 US senators, congresspeople, government officials and pundits to pressure Trump to change course and exempt them from the tariffs.
"We understand the Trump administration's efforts to reduce the US trade deficits, but it has to reconsider the intensifying import restrictions on South Korean steel products," GS Group Chairman Huh Chang-soo, who also serves as the chairman of the Federation of Korean Industries, said, according to the Yonhap news agency.
However, White House National Trade Council director Peter Navarro hinted that some foreign companies might get a waiver from the import taxes.
"There's a difference between exemptions and country exclusions," Navarro told CNN's 'State of the Union.'
"There'll be an exemption procedure for particular cases where you need to have exemptions so that business can move forward, but at this point in time, there'll be no country exclusions."
If Trump exempts some countries, "he has to raise the tariff on everybody else," Navarro told 'Fox News Sunday.'
"As soon as he exempts one country, his phone starts ringing with the heads of state of other countries."
In a Sunday evening tweet, Trump reiterated his determination to tax metal imports.
We are on the losing side of almost all trade deals. Our friends and enemies have taken advantage of the U.S. for many years. Our Steel and Aluminum industries are dead. Sorry, it's time for a change! MAKE AMERICA GREAT AGAIN!

— Donald J. Trump (@realDonaldTrump) March 5, 2018
Trump has opposed free trade and globalization since the start of his presidential campaign. One of his first acts after taking office last year was to pull out of the Trans-Pacific Partnership (TPP) deal between a dozen nations, which was signed by former President Barack Obama.
If you like this story, share it with a friend!