Russia is 'main threat' in Middle East – Lindsey Graham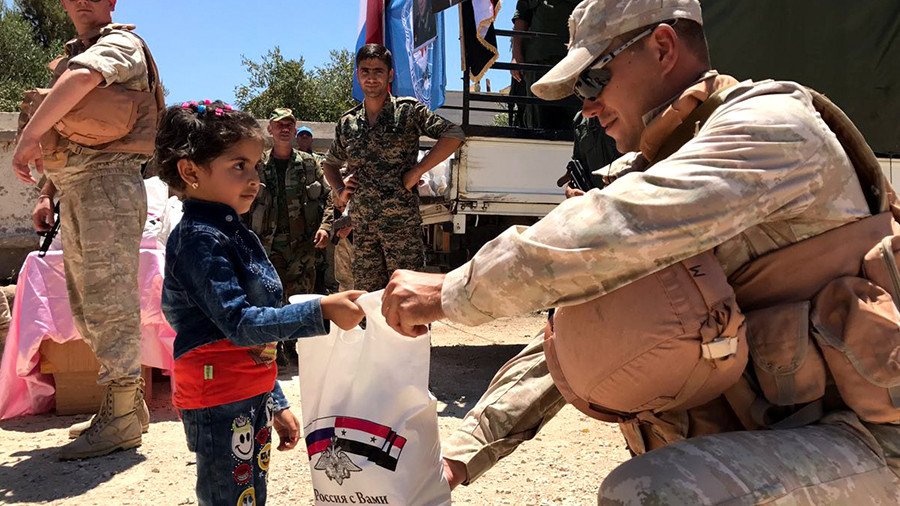 Senator Lindsey Graham (R-South Carolina) has demanded President Donald Trump confront Moscow by imposing a no-fly zone in Syria. Then it will be time to unseat Assad through local proxies, he said.
The prominent Republican hawk criticized Trump's recently-stated policy of defeating Islamic State (IS, formerly ISIS/ISIL) and getting out of the many-sided war in Syria.
"If you leave Syria in the hands of Russia and the Iranians this war never ends. And our friends in Israel and the world are hurt." Graham told CBS News' 'Face the Nation' on Sunday, following his return from a tour of Middle East nations including Israel and Jordan.
Prompted with a question by interviewer Margaret Brennan on "chemical weapons which the Assad regime continues to use," Graham repeated claims taken up by the White House earlier that day, that Russian jets were bombing civilians in eastern Ghouta, a Damascus suburb occupied by Al-Nusra terrorists.
"What I would like to see is a no fly zone inside of Syria," Graham said. "And we would train Syrian Democratic Forces [SDF] to take Assad on. And tell the Russians and the Iranians if you bomb these people you do so at your own peril."
"You'll never get an agreement in Geneva as long as Assad's winning on the battlefield," he said. "Our policy in Syria is a complete mess. We're AWOL when it comes to containing Russia and Iran and Syria as a real threat to the region."
"If we don't push Iran out and come up with an agreement in Geneva that gives Syria back to the Syrians, this war never ends," he warned. "So Mr. President, it's just not about defeating ISIL."
Graham, who sits on the Senate Armed Services Committee, has previously demanded the Pentagon declare support for its SDF proxies in an offensive against President Bashar Assad's government. The SDF is dominated by the Kurdish separatist People's Protection Units (YPG), which US NATO ally Turkey is fighting in Syria's northwestern Afrin canton.
New war with Lebanon?
Graham also hinted at a repeat of Israel's 2006 invasion of Lebanon in a failed attempt to destroy Islamic resistance movement Hezbollah, saying US policy in the region would "make Israel go to war."
"The last thing on my mind right now is the peace process," he said when asked if the security clearance downgrade for Trump's son-in-law Jared Kushner would scuttle Israel-Palestine talks. "We're about to have a war between Israel and Hezbollah in southern Lebanon. Iran is winning and we are losing."
"The king of Jordan is under siege because we have no policy as the United States regarding the Russian-Iranian axis," Graham said. "Southern Lebanon is a rocket launching site against Israel. They're developing precision guided weapons so I would focus on containing Iran rather than pushing a peace process that's broken."
Israel's government has repeatedly claimed Iran is building bases in Syria for an attack on its territory, using that to justify air and missile attacks on Syrian forces fighting terrorists.
"Hezbollah elements being supplied by Iran have over 100,000 missiles pointed at Israel," Graham claimed. "If we don't come up with a strategy against Iran we're going to make Israel go to war here pretty soon with the Hezbollah elements in southern Lebanon."
Hezbollah is one of Syria's staunchest allies in the war against Al-Qaeda and ISIS.
Graham was one of several prominent Republicans who publicly refused to vote for Trump in the 2016 election, when the future president pledged to improve relations with Russia. That contrasted with Democratic candidate Hillary Clinton's threat to impose a no-fly zone over Syria, regardless of the risks of war with Russia.
Think your friends would be interested? Share this story!
You can share this story on social media: