White House accuses Russia of 'killing civilians' in E. Ghouta, Syria in '20 daily' bombing runs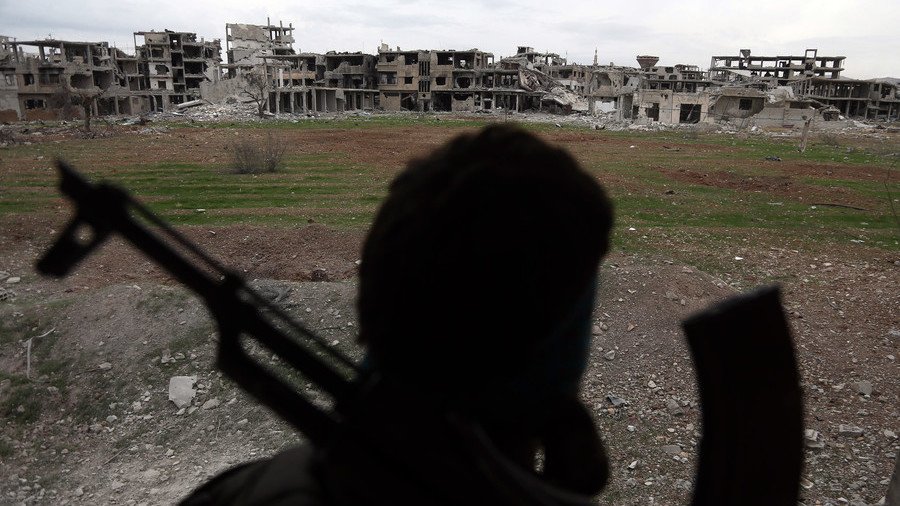 The US White House has accused Russia of "killing innocent civilians" in eastern Ghouta, Syria. It accuses Moscow, which has been striving for a ceasefire and exit corridors for civilians, of "ignoring" a UN resolution.
"The United States condemns the ongoing military offensive that the Assad regime, backed by Russia and Iran, is perpetrating against the people of Eastern Ghouta," the White House said in a statement on Sunday.
It went on to accuse Moscow of ignoring the conditions of the 30-day humanitarian pause in Syria introduced by the United Nations Security Council (UNSC), claiming it had violated the cessation of hostilities "to kill innocent civilians under the false auspices of counterterrorism operations," in a strongly-worded statement.
Washington alleged that the Russian Air Force carried out "at least 20 daily" bombing raids in Damascus and its besieged suburb from February 24 to 28, and demanded the "pro-regime forces" stop targeting civilians and medical facilities.
It went on to claim that Russia, together with Syria, impedes the UN humanitarian assistance reaching eastern Ghouta, demanding they "allow unfettered delivery of humanitarian aid" to stranded civilians.
Moscow is currently involved in a military operation to defeat Islamist terrorists holed up in eastern Ghouta. It has set up humanitarian pauses and corridors for civilians to escape the area, but it says militants are ignoring them and launching attacks to prevent the locals from leaving. The Russian Defense Ministry said the terrorists cover their command outposts in civilian homes, hiding "behind the backs of the elderly, women and children." The terrorists also have plans to destroy or steal any humanitarian aid sent into the area.
The 30-day cessation of hostilities does not apply to the Islamic State (IS, formerly ISIS, ISIL), Al-Nusra Front or any other terrorist groups. Syrian President Bashar said on Sunday that Syrian forces would continue the operation against terrorists in eastern Ghouta "in parallel with opening the way for civilians to leave."
The "overwhelming majority" of civilians trapped between the fighting lines want to break free from the militants, he said.
Assad called out hypocrisy by the West, noting that it starts crying foul only when Syrian forces are advancing against the terrorists.
While the White House accused the Syrian government of a "continued use of chemical weapons," the Syrian and Russian militaries have repeatedly warned that the militants of Jabhat Al-Nusra, Faylaq al-Rahman and Ahrar al-Sham are plotting provocations using toxic agents so the West could pin the blame on the Syrian government.
Syria has dismissed the accusations of alleged chemical attacks, insisting it had surrendered all its chemical arsenal under the UN deal brokered by Russia and the US in 2014.
You can share this story on social media: