E. Ghouta terrorists use civilians as 'human shields,' plan to sabotage UN aid – Russian MoD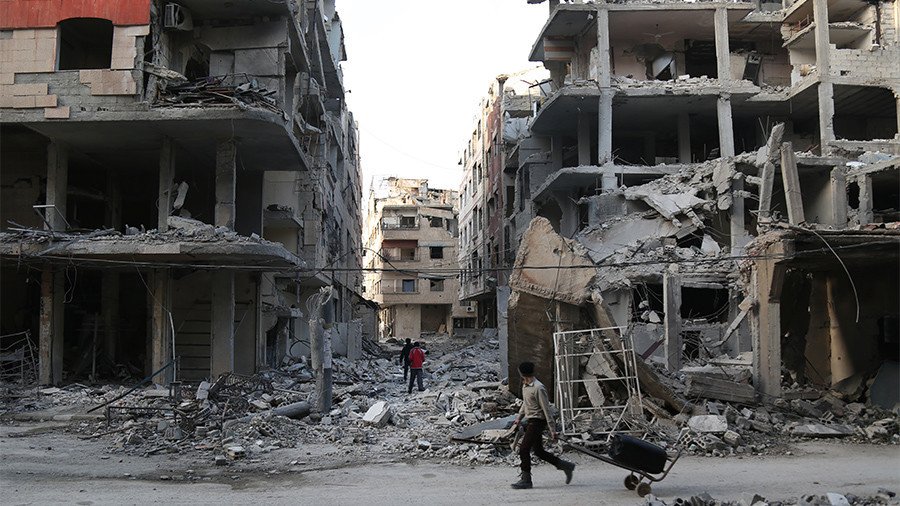 Terrorists in Syria's Eastern Ghouta are hiding in civilians' homes, taking away food and stealing instructions on how to pass through the humanitarian corridor. Militants also plan to shell aid convoys, the Russian military said.
The militants are continuing their activities during the daily humanitarian pauses, and on Saturday before noon they opened fire four times at the humanitarian corridor in besieged Eastern Ghouta, injuring three locals, Major General Vladimir Zolotukhin, a spokesman for the Russian Center for Reconciliation in Syria, stated.
Jaysh al-Islam terrorists try to cover their command posts in civilian infrastructure and use locals' homes for this purpose. They also use underground tunnels, according to the general.
"These actions of militias, as well as their continuing shelling of Damascus and its suburbs, are war crimes and the perpetrators must be brought to justice," Zolotukhin said.
The terrorists "take away food from people" during "massive searches" to further deteriorate the humanitarian situation in the area, according to the Russian Center for Reconciliation.
The militants also deprive people of special brochures with instructions on how to pass through the humanitarian corridor. Some 100,000 brochures were dropped above the Damascus suburb, instructing the civilians to hold them above their heads while passing.
The Russian Center for Reconciliation in Syria has also warned that "jihadists are plotting mortar shelling of [the UN humanitarian] convoy and putting the blame on the government forces."
Earlier, the Syrian government "got information about provocations prepared by the Jabhat al-Nusra, Feylaq al-Rahman and Akhrar al-Sham [terrorist groups] using poisonous agents" in Eastern Ghouta, the Russian military said. The chemical attack is being prepared to give the West an opportunity "to blame the Syrian government for using chemical weapons against the people."
Russia has repeatedly called on the militants to observe the ceasefire and let civilians flee the area, as they are being held as "human shields" to stop strikes from government forces. Ignoring those calls, the militants continue to prevent civilians from fleeing and sabotage the humanitarian operation there. On Friday, two children, a boy and a girl, managed to flee Eastern Ghouta overnight via a humanitarian corridor while being fired upon.
A daily humanitarian pause to give civilians an opportunity to escape the conflict areas was established in Eastern Ghouta on February 27. Earlier in February, the UN Security Council adopted a resolution proposing a 30-day humanitarian ceasefire in Syria. The ceasefire does not apply to members of the Islamic State (IS, formerly ISIS), Al-Nusra Front or any other terrorist organizations.
You can share this story on social media: