Trump directs DOJ to ban 'bump stock' gun accessories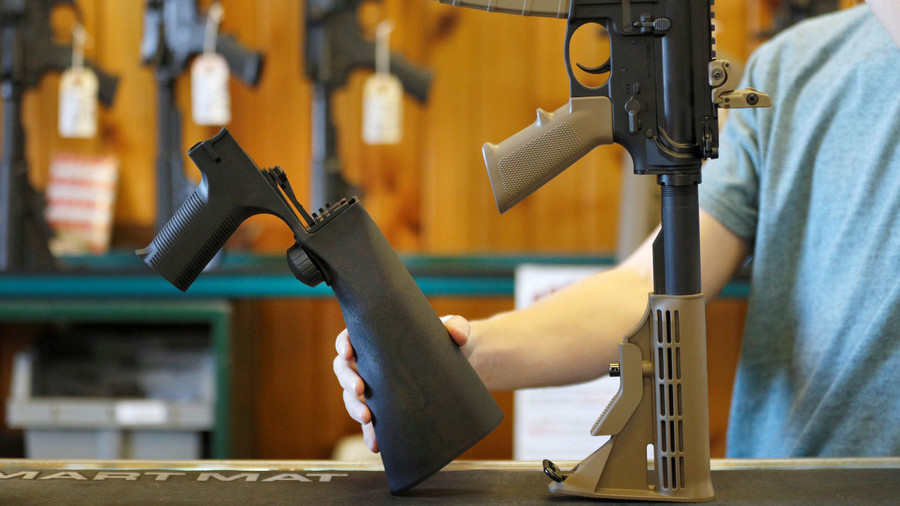 President Donald Trump has signed a memo directing the Justice Department to outlaw bump stock devices on guns. The announcement comes after renewed calls to take action in the wake of the Florida school shooting.
"After the deadly shooting in Las Vegas [in 2017] I directed the Attorney General to clarify whether certain bump stock devices, like the one used in Las Vegas, are illegal under current law." Trump announced on Tuesday at the Medal of Valor ceremony at the White House.
"That process began in December and just a few moments ago I signed a memorandum directing the Attorney General to propose regulations to ban all devices that turn legal weapons into machine guns." Trump said, addressing Attorney General Jeff Sessions. "I expect that these critical regulations will be finalized very soon."
Bump stocks are an accessory that enables semi-automatic rifles to fire more rapidly, at the cost of precision. The devices were reportedly discovered in the room of the Las Vegas shooter, who killed 58 and injured 851 in December 2017.
At a press briefing shortly before the medal ceremony, White House press secretary Sarah Huckabee Sanders said that Trump was working with individuals, state and local officials, and federal officials to reach solutions on gun legislation.
Trump has faced widespread calls for some kind of action following the deadly shooting at the Marjory Stoneman Douglas High School in Parkland, Florida last week. Former student Nikolas Cruz was charged with killing 17 people and wounding another 15 after opening fire with his AR-15 rifle.
Students who survived the massacre have announced that they will march on Washington, DC, next month to call for more gun control.
The Second Amendment of the US Constitution guarantees Americans the right to "keep and bear arms." There are federal, state and local laws governing the possession and carrying of guns that vary from state to state, however.
Trump himself ran for office on a pro-Second Amendment platform, while his opponent Hillary Clinton at one point said an Australian-style confiscation program was "worth considering."
Think your friends would be interested? Share this story!