Terrifying footage from inside Florida school shooting (VIDEO)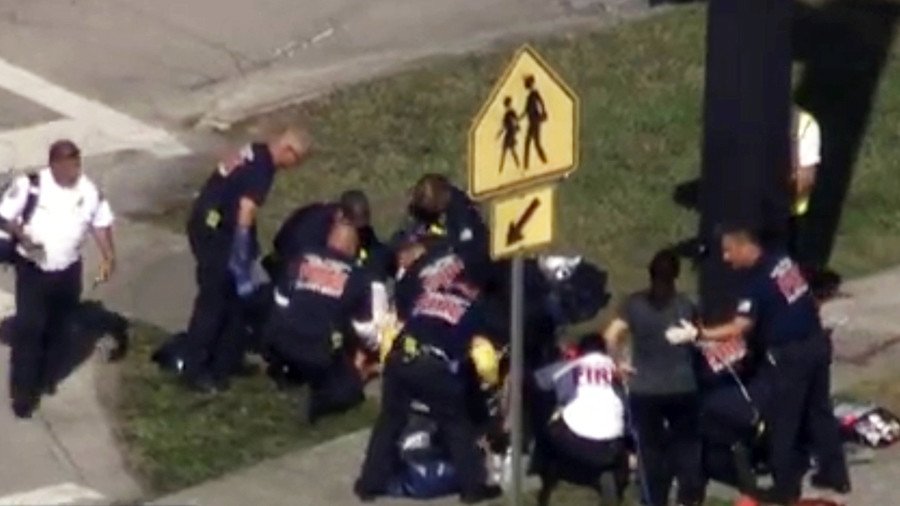 Chilling footage shared by a student from inside the Florida high school where 17 people have been killed and many more injured, reveals the terrifying shots that rang out to spine-chilling screams.
Student Matthew Walker posted a video on Snapchat as he and his classmates hid on the floor of a classroom inside Marjory Stoneman Douglas High School, where a former student opened fire on Wednesday.
In the footage, several shots can be heard ringing out near where the students are hiding, and smoke, supposedly from the firearm, starts to fill the classroom while students scream in fear.
A photo posted shortly after the footage was uploaded shows bullet holes in a laptop computer that was sitting on one of the desks in the classroom.
READ MORE: Mass shooting in Florida school leaves at least 14 victims, fatalities reported
Walker later reassured his followers on the video-sharing app that he was okay and feeling "very blessed to be alive".
The attack took place shortly before the end of the school day in Parkland, a town about 45 miles north of Miami. Hundreds of panicked students fled the building and emergency services crowded the campus.
"There are numerous fatalities. It's a horrific situation," said Broward County Schools Superintendent Robert Runcie to reporters.
The suspected gunman, 19-year-old former student Nikolas Cruz, surrendered to police quietly, according to Broward County Sheriff Scott Israel.
You can share this story on social media: