Florida school shooter was part of NRA-sponsored air-rifle school squad – report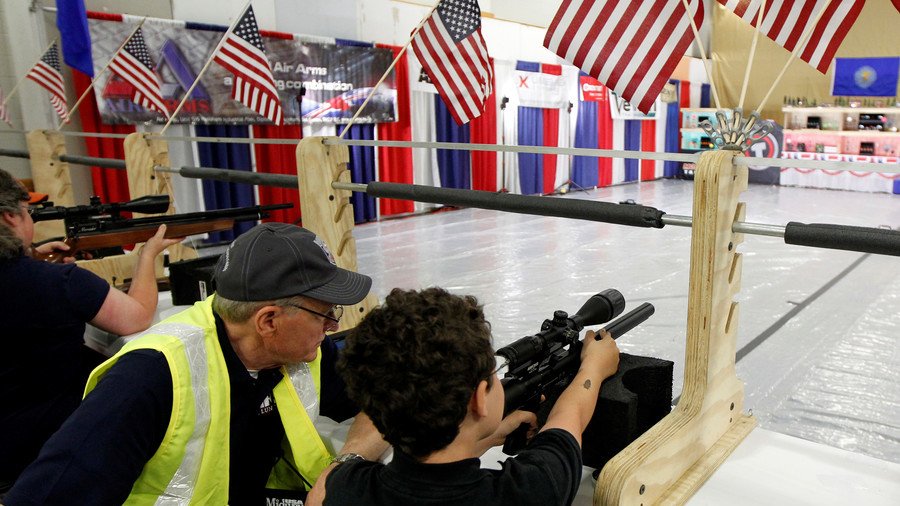 Nikolas Cruz, who is accused of killing 17 people in a Florida school shooting rampage on Wednesday, honed his shooting skills as a member of a marksmanship team that received at least $10,000 in grants from NRA, AP reports.
Cruz, whose obsession with guns became widely known in wake of the tragedy, was a top member of his former school's four-member air rifle team, his former team members said, as reported by AP.
"He was a very good shot," Aaron Diener, a former cadet in the Junior Reserve Officers' Training Program Corp [JROTC] at Marjory Stoneman Douglas High School told AP. The 19-year-old travelled to shooting competitions as a representative of the school, he added. Diener said Cruz owned an AR-15 rifle and multiple pistols.
Earlier, it was reported that Cruz was enrolled in the JROTC, which is backed by the US military, before he had been expelled from the school last year for "disciplinary reasons."
The National Rifle Association Foundation, which provides funding for shooting sports at schools across the country, channeled some $10,827 to JROTC at Douglas High, according to tax records for 2016 cited by AP.
While the NRA Foundation has provided $2.2 million in grants in at least 30 states, Florida is the state with the most number of schools to apply for a donation in 2016. A total of 18 schools, including five that are located in Broward County, received grants earmarked for shooting sports equipment in 2016. North Fort Myers High School in Lee County was the recipient of the largest grant from the charity arm of the powerful gun-rights lobby organization, amounting to some $37,000.
Lee County Schools Spokesperson Rob Spicker said that the schools had no plans to reconsider partaking in the program in wake of the shooting, arguing that donations are needed to sustain the poorly funded JROTC that "benefits 6,500 students."
One of the deadliest mass school shootings in the US history, and already the 18th this year, reinflamed the festering debate about gun control, a particularly divisive and partisan issue on the Capitol Hill. Calls to pass stricter gun control laws resurface after each major mass shooting incident, which have become increasingly common in the US. In wake of the Las Vegas mass shooting in October, the most deadly shooting in modern US history, there was some hope for bipartisan action. However, gun control legislation stalled in Congress, with Republican lawmakers and the NRA arguing that easy access to assault weapons in certain US states is not the root cause of gun violence.
Conservative Fox News contributor Tomi Lauren invoked the wrath of Twitter after she slammed "the Left" for seizing the opportunity to "push their anti-gun agenda." She argued that the focus should be on the apparent mental health issues the attacker was dealing with.
President Donald Trump, who has not hinted at any upcoming change in gun laws in the follow-up of the Florida shooting, was himself blasted by the vice mayor of Broward County, who accused him of hypocrisy on Friday.
"Him coming here, to me, is absurd. Him coming here is absolutely absurd, and he's a hypocrite," Democrat Mark Bogen told CNN, speaking about Trump's announcement that he would travel the stricken city of Parkland on Friday. "How can you come here and talk about how horrible it is, when you support these laws?," Bogen said.
Meanwhile, the Democrats were quick to renew their push for gun control, with House Minority Leader Nancy Pelosi (D-California) saying that she "would rather pass gun safety legislation than win the election," as cited by CNN.
Ex-CIA director John Brennan chimed in on the argument, urging Congress to ban semi-automatic weapons.
You can share this story on social media: